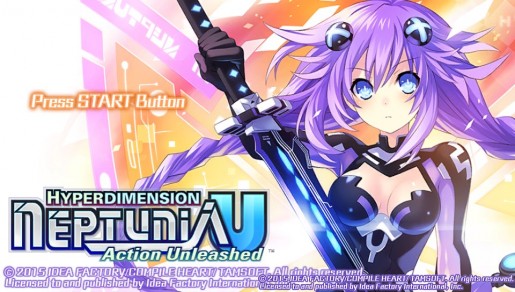 Spin-offs can be a great thing for a successful franchise. Not only do they allow developers to try new things or explore different worlds, they also open the door for a new demographic to experience the franchise. This concept has lead to some amazing titles like Metal Gear Rising, Plants vs Zombies Garden Warfare, and E.X. Troopers, though the same is also true. This is where Hyperdimension Neptunia U: Action Unleashed comes into play. By offering an action take on the semi-traditional RPG, Neptunia U hopes to introduce a new audience to the world of Neptunia. The only question is, will Neptunia U leave a positive or negative impression with newcomers?
Usually Neptunia games tell a fairly generic story that is quickly thrown into the background in favor of character interactions. In the case of Neptunia U, the plot is basically an excuse to have these interactions. Dengekiko and Famitsu, both references to popular Japanese gaming magazines, are introduced as journalists there to interview the girls and report what they're doing for their readers. It's a simple set up that works better than the usual new threat appears and we're all doomed premise we usually get, though at the same time it makes the story feel like filler.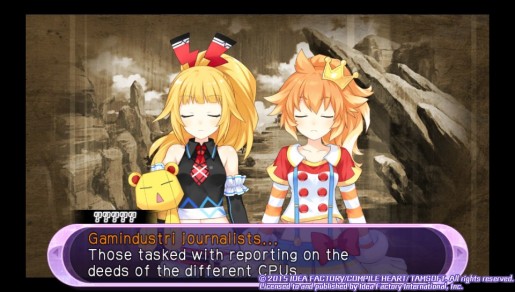 Once you get past the open acknowledgement that this is what makes a Neptunia game, well, Neptunia, you get a familiar experience that fans will enjoy. Plus the story eventually introduces a new big bad that needs to be defeated, so there is little more to Neptunia U beyond the initial premise.
In addition to having a fairly basic story, Neptunia U is probably the most straightforward Neptunia title to date. As mentioned above, Neptunia U is an action RPG that resembles popular series like Dynasty Warriors and Senran Kagura. Square is normal attack, triangle does a strong attack, X lets you jump or double jump, circle is dodge, right button lets you use skills/transform, the d-pad gives you information/lets you switch characters and the sticks control movement and camera.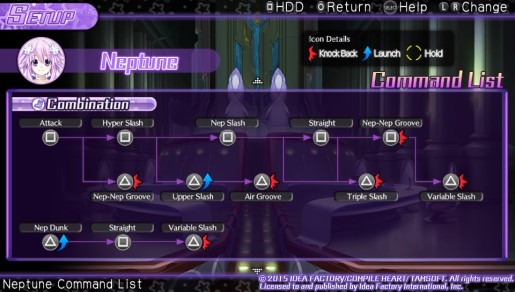 For the most part, there isn't a lot of depth in the combat. Every character has a number of combos, which can be performed by switching between normal and strong attacks, that you must use to defeat a foe. Each character has like six or seven combos you can perform, though some are more flash than substance, where as others quite situational. In the end none of these things really matter and odds are you can be successful randomly hitting buttons until you win, but successful mastery of these combos can save you some time in the long run.
Beyond the gameplay the progression system is probably one of the worst I've ever seen in an RPG. Instead of giving you stores with items to buy, some sort of alchemy system, completing side tasks or killing dangerous foes, almost every weapon/accessory is unlocked by collecting medals from fallen enemies. So if you want Neptune's best weapon, all you have to do is collect 999 dogoo medals. Sometimes this results in characters unlocking their best weapon first or characters you dislike having an edge over others, but it's ultimately a system where you just need to keep mindlessly killing things until you receive enough medals.
Another problem is how accessories are handled. After you unlock an accessory you can use it with every character/form once. Lets say you want to focus on power, then you can make every character have the same pure power build without having to obtain duplicates, apply extra effort or do anything besides initially unlocking the item. This is a very discouraging system that doesn't promote grinding, trying new things or even figuring out how you want to play. To make matters worse, Neptunia U greatly favors power and aggression to any other playstyle.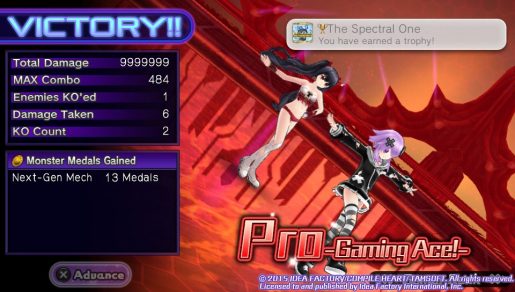 Arguably the best and most glaring example of this is how it impacts the final Neptral Tower post-game dungeon fight. There you have to defeat a super charged version of the games final boss. Keeping true to the Neptunia series, this boss has too much health and does devastating attacks with a lot of range that covers a wide area. In this situation it seems only natural to increase your defense or health and attempt to win the fight by increasing your margin of error. However, it's significantly easier to increase your attack and blindly attack the boss than to do anything else in the game. This is because after a certain point, which differs between characters, your attacks will result in the boss cancelling out of their attacks. So if you can maintain a combo like square, square, square, circle, repeat, you can keep the boss in a constant loop, even at level one, until they're eventually defeated.
No game should have mechanics that greatly favor one playstyle over another. Even in tests I found the difference in one defense and 9,999 defense was the ability to take roughly twice as much damage. Even if the same holds true for attack (it's a little higher), the ability to defeat everything in half the time will result in the enemy having less opportunity to attack you, ultimately giving you a better defense anyway. But considering almost every mission boils down to defeating enemies until you win, there really isn't any reason to do anything beyond blindly attacking.
The sad thing is that all of this would be acceptable or at least tolerable if there was more to the game, but that's not the case here. There isn't a lot of dialog, there are almost no events beyond unlocking alternate versions of costumes (one that disables the Senran Kagura clothing rip feature, one that makes it happen more often and the ripped version itself), there are only "28" different enemies to defeat (reskins not included), no alternate endings, you progress by just killing things and the side modes are relatively pointless (Neptral Tower is just 50 floors of killing enemies and Gameindustri Gauntlet lets you fight other playable characters, but the combat isn't satisfying enough to make it enjoyable). So unless you want to play a really simple version of Dynasty Warriors with a Neptunia skin or absolutely love the character interactions, Neptunia U is not worth your time.
[Editor's Note: Hyperdimension Neptunia U: Action Unleashed was reviewed on PS Vita platform. The game was provided to us by the publisher for review purposes.]
Hyperdimension Neptunia U: Action Unleashed Review

,