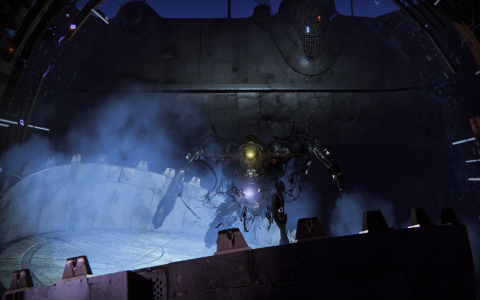 One of the best parts of Destiny is learning new mechanics and ways to defeat seemingly simple foes. This is why Urrox was a much better boss than Valus and why the Vault of Glass is viewed as being superior to Crota's End. Now this week's Prison of Elder is a lot harder than Valus or Urrox, but not impossible to win.
Round 1
In a surprising twist of fate, the first round is against the knight boss. For this you have to deal with catapult, which is the quick grenade spam one and really isn't that hard of the fight. If you've already defeated Urrox, then it's exactly like that just with two ogres. If you haven't, then read on.
Start this fight by running to the left side and kill the ogres. Once they're down, kill the remaining enemies and then focus on the boss. Slowly more enemies will spawn, as will more ogres, but the basic idea is to kill adds, attack the boss, until the fight is over.
Round 2
The next set is Vex with void burn. Here you want to get all three slots void, since that will help you best against the best, and work on closing off their spawns. The best way to run this is to have at least one person on each side, as you have to disarm bombs, with the remaining person ready to go mid when need be. This is probably the easiest wave, so focus on the enemies and objectives in those spots and you'll be fine.
Round 3
Whats that? Another boss?! Yes, for the third round you have to defeat the servitor boss. This is no different than any other time you did it, except for the fact you have brawler (totally pointless here). Just have two people on one side, with another on the other to break up the mobs and then attack when you have some breathing time.
Round 4
For the final main round you have to defeat the Vex with small arms and destroy the target. This one isn't too bad, though you'll probably die a lot. The middle will be overran by minotaurs, plus the objective will spawn there too, so you got to be aware of the middle at all times. Upon killing the target, just stick together and communicate things with your friends. There really isn't much to this one besides mod management.
Round 5
The final round is against a new gate lord called Qodron, who is a lot harder than meets the eye. With that being said, I found the best strategy is to start by having everyone run to the left and then waste their heavy on him. You want to do this at the start, since the enemies never stop coming and will get harder and harder to manage as time progresses. After a little bit an enemy will spawn next to Qodron called Qodron's eye.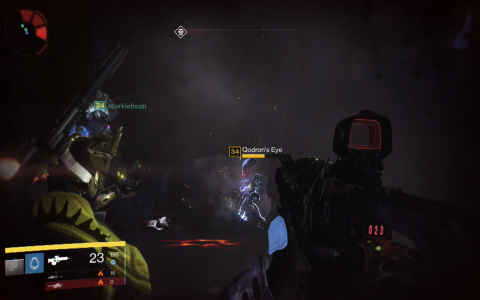 Once you kill Qodron's Eye you'll receive a special buff called Jailbreaker for 30 seconds. This skill is invaluable for taking out the shields. I found the best way to do it is to constantly try to kill the eye, wait for the bubble and then have whomever has the buff take out the remaining bubbles.
After destroying the bubbles go back to fighting Qodron and clearing out adds. It should take about three bubbles to down him, maybe four or more if you run into issues. Overall though, this is another fight that is about paying attention to the eye and destroying adds.
If you're still having issues, you can check the video below to get an idea of what you need to do.