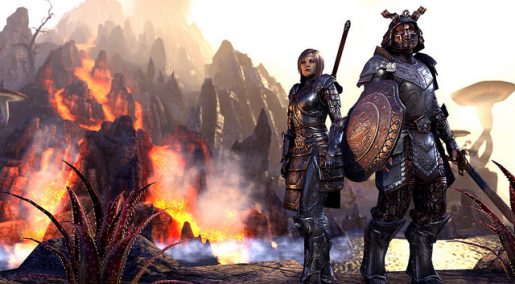 With The Elder Scrolls Online set to release in a little over a month on consoles, ZeniMax Online Studios revealed they're finally ready for the beta, with invites going out tomorrow at 10 a.m. EDT.
Unfortunately the beta is limited to those who signed up for the console beta in the past and they're no longer accepting new applications. In addition to that, Jessica Folsom (Community Manager, ZeniMax Online Studios) mentioned that anyone who received The Elder Scrolls Online survey a few weeks back was eligible, though you had to complete it by Monday to have a chance at getting an invite. So if you did get the survey and haven't done it, then you're out of luck. She also mentioned that getting and filling out the survey did not guarantee access, only that you had a chance of getting access to the beta.
While that might be disappointing for some, The Elder Scrolls Online beta does not contain an NDA and users are strongly encouraged to share screens, live stream or upload as many videos or pictures that you want.
For those of you who get into the beta, it will begin on April 23, 2015 at 10 a.m. EDT and will run until April 27, 2015 at 10 a.m. EDT. Characters created during the beta will be wiped and Xbox One and PlayStation 4 users will be on different megaservers. Each console will also have a "dedicated" megaserver for North America and Europe, though you're welcome to play on whichever server you want. While this might be disappointed, ZeniMax Online Studio explained that those participating in the beta will "have access to the full console game," meaning there will be more than enough to do over the course of the beta. However, be warned that the current client exceed a 50 gb bluray disc and will have an additional 15~ gb day one patch.