In addition to Shovel Knight being a three-way cross-buy on the PlayStation Network, it also features a fight against Kratos, from the popular God of War series. However, before you can fight Kratos and earn his unique reward, you first need to find the secret omega scroll, which will allow you to fight him.
How to Unlock the Kratos fight
To find the scroll you need to head to the Hall of Champions, pay the entrance fee (if you haven't already), head up the ladder and then go to the far right. There you will see a wall that can be broken by striking it with your shovel. Now in that room there is an additional secret room to the far right, which can only be accessed by doing a downward strike with your shovel on the right most part of the floor. This will open up a path to yet another room containing the omega scroll. Upon grabbing the scroll, exit out the way you came in. Please note, exiting to the map will result in your progress being lost, meaning you won't have the scroll and the fight won't unlock.
Fighting Kratos
After exiting the Hall of Champions, you'll see a cloaked man on the world map. Walk up to this person and you'll be transported to the place where you fight Kratos. Once you talk to Kratos the fight will begin after the two exchange some dialog.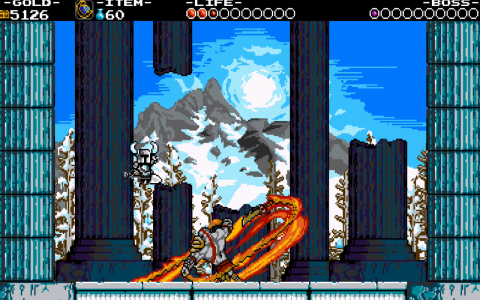 Now the Kratos fight is unique for two key reasons. The first is that Kratos has three phases that you need to defeat and Kratos has a lot more range than the Shovel Knight. For this fight I advise using the phase locket to get close or chaos spheres to get him at range, in addition to mainly using downward strikes. The final thing is to avoid being too aggressive. Kratos can do a devastatingly high amount of damage if you let him, so try to avoid that.
For the final phase you need to defeat him while jumping between a series of falling pillar pieces. This part can be hard, since Kratos is hard to hit and you lose a lot of life for falling off. Thankfully he isn't too aggressive, so try to defeat him before you lose to bad luck. It might also help to equip the propeller dagger to hit Kratos or delay your fall.
Gravedigger Shovel
Once Kratos is defeated he will give you the gravedigger shovel, a neat and relevant reference to the God of War games, an item you can't use, but can be used if you take it to the blacksmith. Go to the armor outpost and talk to Armorer. He will mention the shovel and turn it into the Armor of Chaos. This armor takes away your ability to use your unlocked skills in exchange for the ability to use a devastating combo (like Kratos) and charged shovel drop. These powers and abilities come with some advantages and disadvantages, like the charged shovel drop makes it pretty easy to die, but it's an interesting new way to play Shovel Knight. The armor also turns food, magic and some cash into different colored orbs like you would find in God of War. A small, but nice touch.
Video Guide
If you're still having issues or just want to see it all in action, you can check out the video below. It contains all the information mentioned here, plus an idea of how the armor works.