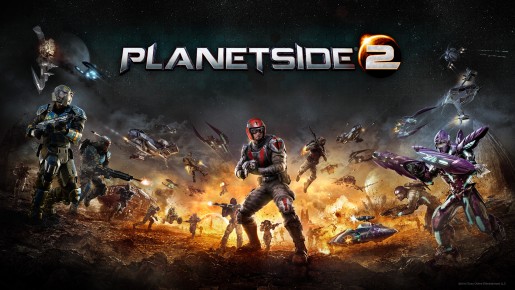 For a while, Daybreak Game Company has been hard at work to bring PlanetSide 2 to the PlayStation 4. While its release is still sometime in the future, PlanetSide 2 recently launched a closed beta, giving us some insight into what to expect. With large worlds, multiple factions fighting for dominance and a plethora of guns to use, should you be excited about PlanetSide 2 or is it best to move onto other things?
The interesting thing about PlanetSide 2 is that there is and isn't a tutorial so to speak. Instead of simply telling you the advantages/disadvantages of each class, what the objectives are, controls or anything like this, you're simply thrown in a world with other beginners and expected to just figure it out. While this might not appeal to everyone, the main idea is that you're suppose to do the objective (like capturing a place) using whatever tools you have at your disposal.
Sometimes you'll see people use turrets, tanks or even cars to get the drop on the other groups, where as other times it might be a cloaked sniper or a seemingly endless army of medics. It gives PlanetSide 2 the potential to be a really interesting game, but also highlights the importance of other competent players.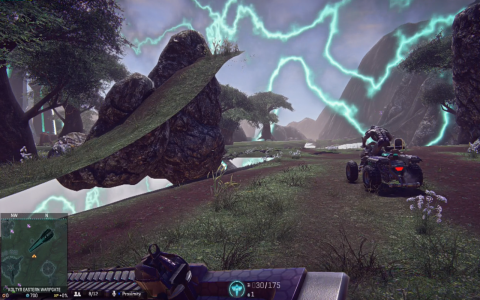 Needless to say, since this is a closed beta that only works on the weekend, the spacious worlds can seem empty and boring at times. At times it wasn't uncommon to spend five or ten minutes looking for people, where as other times there was a definite struggle between the three factions. Needless to say, PlanetSide 2 is a lot more fun/interesting when conflict is high.
Despite being a lot when each side is going at it, PlanetSide 2 isn't anything you haven't seen before. All the familiar classes (medic, assault, infiltrator, etc) are present and all the staple guns are here. Thankfully there are a variety of weapons and attachments to choose from, allowing you to make your ideal weapon. Be it a close range pistol or ranged SMG.
Since all of this should be familiar to anyone who has played or seen PlanetSide 2 in the past, let's talk about how it runs on the PlayStation 4. For the most part I didn't experience any problems playing PlanetSide 2. The frame-rate was stable, graphics were fine given the size and detail of the environment, plus I didn't experience any problems with lag despite my connection being listed as poor or worse throughout multiple sessions. In these aspects it seems like PlanetSide 2 is done or at least relatively close to that. However, there were a number of weird bugs and graphical glitches that still need to be addressed, so don't be surprised if PlanetSide 2 doesn't release for another couple of months.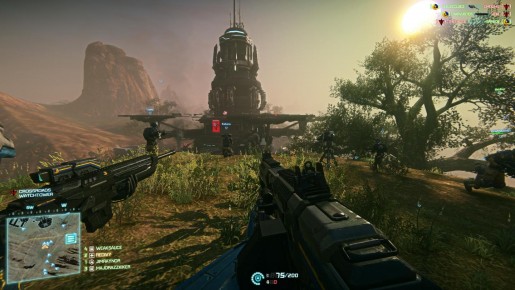 In the end, PlanetSide 2 is your average capture and defend game with a couple of twists. These include three sides going at it, optional characters who has more power, but cost resources to use and maps so large that it's practically impossible to cover every capture point at all times. For these reasons you should be excited to play PlanetSide 2 when it launches, though if you're looking for something different than this, then odds are you probably won't think much of PlanetSide 2.