Sometimes opposites attract and things that sound terrible on paper, somehow manage to work. So when Idea Factory and Compile Heart announced Omega Quintet, an RPG centered on Japanese idol singers, it sounded like an uphill battle. With cute girls, musical numbers, large monsters, wide-open worlds and plenty of RPG elements, Omega Quintet has the makings of a solid title, but is it enough to make the premise work?
If you've ever read a comic/manga or watched anime in the past, then you've no doubt encountered a story like Omega Quintet's. Main character wants to be a Verse Maiden (hero), they put themselves in harm's way, monsters attack, said character awakens a previously unknown power/ability, resulting in their dream coming true. After you're introduced to the premise, which largely exists to give the gameplay context, the story is mostly about the characters interacting with one another. This is a little more enjoyable than the plot, though these interactions also follow familiar beats. Like one of the girls is insecure about her age, so she overreacts when someone brings it up and most of the characters fall under established tropes.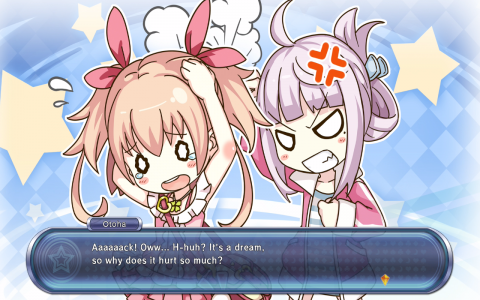 Like Compile Heart/Idea Factory's other games, most people are buying them for gameplay, which is much better than the story. As mentioned above, Omega Quintet is about Japanese idol singers, so the game is designed with that in mind. Weapons are referred to as mics, every character gets an embarrassing starting costume, musical notes are used on icons, there is an announcer that comments on your fights, you can do a singing number for some buffs, fans will make requests that you can fulfill and so forth.
Beyond a fairly superficial level though, Omega Quintet is an RPG or to be more precise, Neptunia, with a different coat of paint. You explore a 3D world, monsters spawn on the map and how you touch them determines how the fight will start, weapons follow a linear progression, you can break enemies protection to deal additional damage, there is stuff hidden on the maps, plenty of costumes to unlock and much more. However, Omega Quintet also improves or at least does some things differently than Neptunia.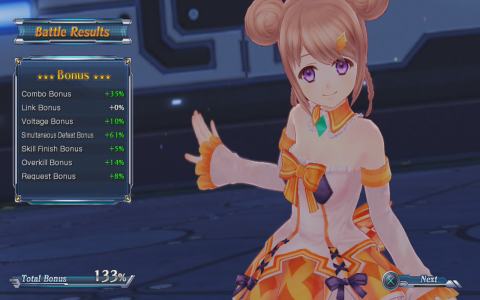 For instance, in Omega Quintet there are multiple different weapons that any character can use. So if you want everyone using a gun, spear or gauntlets, then you can do that. In addition to that, every character has a fairly large and elaborate skill tree that you can build however you want. This means you can unlock skills for other weapons or focus on the weapons you want and not have to worry about unlocking them or getting skills you don't want instead of the ones you do want. Unfortunately there will be compromises, like certain upgrades require you to buy specific things, but overall it's a solid system.
Another change is that Omega Quintet uses a couple of huge maps, instead of a number of small ones. This gives you plenty to see and explore, but it also makes progression slower and it can be frustrating at a lower level. Like at a low level there is only so much you can do, which makes exploring rather pointless. As you gain more perks and abilities the world starts to open up, but at the same time it can be annoying tracking down treasures/hidden objects only to find you can't obtain them. In addition to the world opening up, new enemies will spawn as you progress, so you don't need to worry about wasting your time with level four enemies.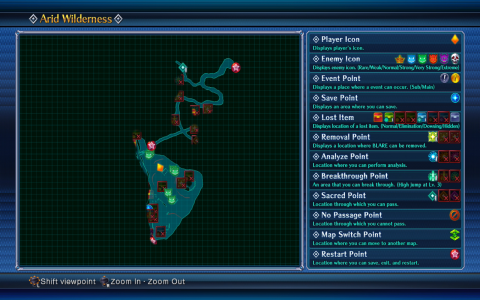 Speaking of which, the combat system in Omega Quintet is quite underwhelming. Similar to Neptunia, I found I could win any battle by just blindly attacking, which works better in Omega Quintet, since it's a traditional RPG. Most battles I found I didn't need to use the concert mode (stat altering mode) or my ally, with the most thought that went into my attacks was making sure to steal from new enemies and using the harmonic chain (lets you use combo skills and have every character that can do something on that turn attack allowing you to maintain your combo) for easy overkills. It's a shame that you don't need to master Omega Quintet to beat it, but at least doing so can result in a substantial boost in experience and cash gained.
Easily one of the worst parts of Omega Quintet is the side quest system. To get a mission you have to go to town, which is just a series of dots with events and quests having an indicator and some dialog to go with them. Generally speaking there are three types of quests. Kill a monster, collect a material, and go find something. Since Omega Quintet has a more open world, these requests feel like an actual quest, but the problem is deadlines.
Unlike story missions, which can be done whenever, side quests have different deadlines. The issue with the deadlines isn't that they exist, but the passage of time is very confusing. Instead of giving you a metric, such as finish in some amount of time, you're instead told that your time is "short" or "medium." Not only is extremely confusing, Omega Quintet seems to have no consistency with these deadlines either.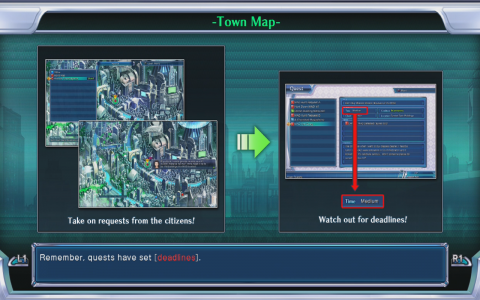 The first mission I failed was given to me after accepting a story mission. It took place at the same new location as the story mission, so I planned on doing both at the same time. I finished the mission, killed the boss, completed the chapter and upon returning to town right after, I found out I was too late. Later I tried this with two other short missions and even after finishing three story missions they were still active. So if you want to do every mission in Omega Quintet, you'll probably want to drop everything and do them so you don't accidentally miss the deadline.
Omega Quintet shows that Compile Heart is improving, but there is still a long way to go. Things like the training room, wide-open worlds, and hidden passages are welcome improvements, but they're still rough around the edges. Especially the alchemy system, since for whatever reason you can't just trade materials for items, nor can you click on the weapon and destroy said material to quickly make the item either. But despite these flaws it's a decent experience and one that fans of Neptunia will most likely quite enjoy.
[Editor's Note: Omega Quintet was reviewed on PS4 platform. The game was provided to us by the publisher for review purposes.]
Omega Quintet Review

,