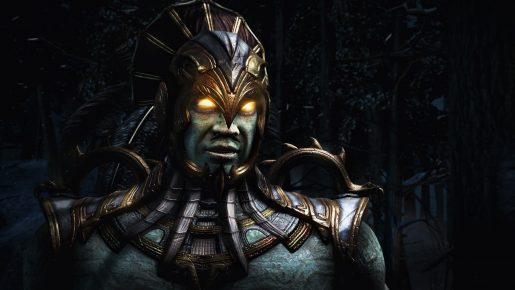 Like a lot of free to play games, Mortal Kombat X has a number of "paywalls" designed to make progressing very difficult if you don't spend real money. That's not to say you absolutely have to pay to progress, but certain fights are simply brutal if you lack a good team, did little to no grinding, are saving your money for kard packs or something else along these lines. Thankfully playing Mortal Kombat X on a console will help you progress faster, but thanks to a glitch you can receive an unlimited number of coins from it.
Console Side
Start by signing onto your WBPlay account if you haven't already. You should see a prompt on the home screen and if you see an e-mail listed at the bottom left, then you're done. If not, simply button you see there and then sign into/make a WBPlay account.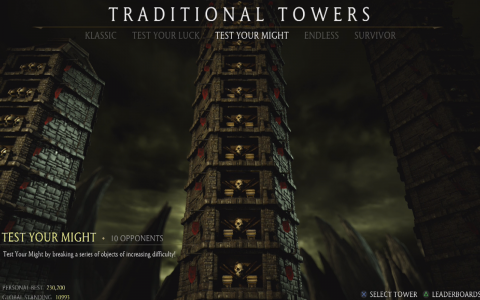 After that, click on "one player," followed by "towers," then "traditional towers" and then finally select "test your might."
Complete the first five stages, which isn't too bad if you mash the buttons. You might as well do all 10 floors to unlock the Sub Zero's Revenant costume and the Almighty trophy/achievement. To easily do them just grab a pencil or pen, place it in the middle if your buttons and roll it. This should be more than enough to beat all 10 stages with minimal to no effort.
Mobile Side
Start up the game and log into your WBplay account if you haven't already. After doing so and playing a round of test your luck (you can repeat this for unlimited test your luck and soul coins), you should see some notifications on the home screen. Accept whatever the game gives you and then click menu, profile, console unlocks, then scroll down.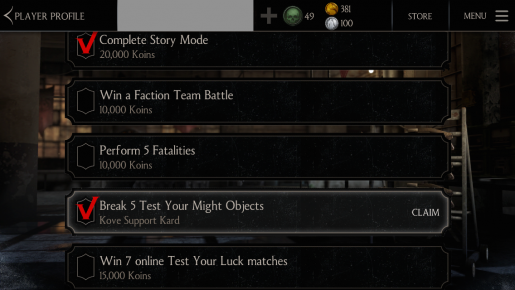 You should see "break 5 test your might objects" highlighted with the option to claim it on the right. Select this and you'll be given a Kove card. The first five times you accept it you'll be given the card and told you have to fuse it, which is quite worthwhile to do. The Kove card gives every character an additional 3% experience per level, so maxing it out is an additional 15% experience.
After you've redeemed the kard five times, you'll have a maxed out Kove kard and will be told you have to sell it. The card goes for 1,200 coins, so keep redeeming and selling for free coins that can be redeemed for upgrades, skills, characters and kard packs. I strongly suggest either maxing out your main team, investing in Cutthroat Kano (he sucks, but you can max him out without any risk or luck factors) or buying kard packs. Every kard pack gives you two support cards, which might be a free upgrade, level up, or character stat boost and a guaranteed silver or better kard. Yes, despite the pack saying it contains 1 silver card, there is actually a chance that your silver card might end up being gold.
Please note! I was able to continually redeem the kard and buy kard packs while offline, so there shouldn't be any risk in exploiting this beyond personal preference or possibly ruining the game in the future. Also keep in mind that you can share your account with other people so they can instantly get the console unlocks and vice versa.