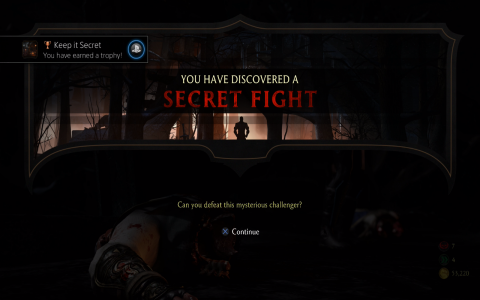 After a week of no one figuring out how to trigger a secret fight in Mortal Kombat X, fans started to speculate the feature simply wasn't in the game yet. While that may or may not be true, this weeks premier tower contains a secret fight you can trigger to get the trophy/achievement.
Unlocking the fight
Start by going to the living towers and select the premier tower. This weeks premier tower is in honor of Mortal Kombat 1 and has a secret fight against Reptile, that is a reference to the original title. Upon selecting this tower, continue playing normally until the sixth fight. During this fight you need to not only win the battle, but do so with at least one round being a flawless victory and perform a fatality. If you can accomplish this you'll unlock the trophy after the fight and have an optional fight against Reptile.
Tips for getting a Flawless Victory
Arguably the hardest part of this trophy/achievement is getting the flawless victory. To do this you need to win the round without taking any damage, which includes chip (damage taken while blocking). This means you need to win the fight with pure offensive, leaving yourself open to a lot of attacks or silly mistakes. The best advice I can give is to try to exploit the AI's coding, like you can jump and kick the AI two or three times before they block and go for simple combos that lead into strong attacks like an uppercut. It's also important to go for the X-Ray, since that will do a massive amount of damage and further decrease your risk of failure.
With that being said, if you fail to do it in any of the three possible round, just lose the fight. Losing will bring up the retry screen, which can be used to replay the fight and still unlock the optional battle.
Fatality
Performing the fatality is arguably the easiest to do and easiest to fail part of the challenge. All you need is one wrong input to end up on square one, though at the same time there are a lot of fail safes. To help yourself out I suggest using an easy fatality, putting the input on the screen (start, combo, note, put on screen) or selecting a fatality without an attack. Some of them are just directional inputs, making the risk of screwing up far lower than one that can result in you hitting the enemy prematurely.
Video Guide
If you're still having issues or just want to see it in action, please check out the video below.