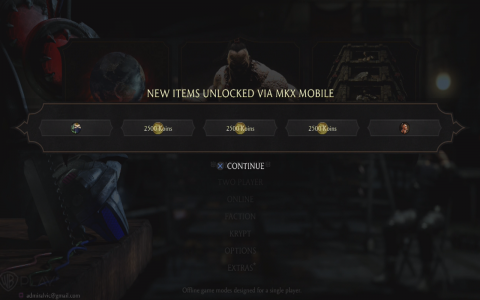 As you might recall, Injustice: Gods Among Us had a mobile fighting game that offered additional costumes, emblems, icons and money in the console version and vice versa. The same is true for Mortal Kombat X, which can also be exploited to instantly unlock all the console or mobile unlocks without doing actually playing/owning the other game.
Editor's note: Currently the WBplay system is quite buggy and the information below might not be completely accurate. Once the online system stabilizes I will post the results, but beyond that I can confirm I was able to give another account all the unlocks, meaning it's possible on some level to do this.
How to Instantly Unlock Every Mobile Unlock
Find someone who has unlocked every/most mobile/console unlock in Mortal Kombat X.
Have them go to WBPlay and unlink every console associated with the account.
Change your WBPlay account password to something simple so the person you give it to won't know your real password.
Console
Sign into their WBPlay account on your system of choice.
Wait for the game to sync and after a couple of seconds you should instantly unlock every reward
Freely sign out of the account and go on whatever account you want. Once you have the unlocks it no longer matters if you have the account linked and signing out or changing it won't deactivate the content.
Mobile
Click menu and select profiles.
Click "change WBID."
Sign into the account and link it. This will remove the link on the other account, so keep that in mind.
Go back to the main menu and on the bottom left you should see a ninja icon. Select this and you'll find a number of messages with items you can redeem.
Please note! It doesn't seem possible or at least I wasn't successful in giving another account the unlocks and it might take a couple of attempts to get right. However, if you do find someone willing to share their account, which you're more than welcome to use our comment section to do so, it should work after a couple of attempts. Also, the video below contains all the items currently unlockable from the mobile game in the console version of Mortal Kombat X.