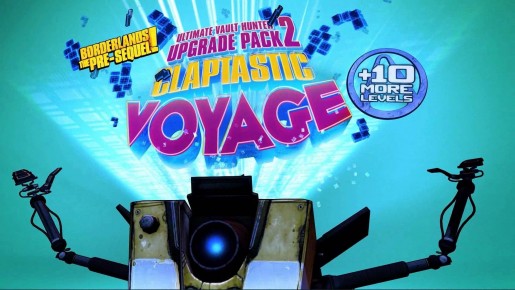 A couple of weeks ago, Borderlands: The Handsome Collection released and with it came the highly anticipated Claptastic Voyage. The latest DLC campaign not only added new challenges to complete, but a number of trophies/achievements to obtain. While some of them are pretty straightforward, a few of them are pretty tricky and require a bit of time to complete.
Set Up
Claptastic Voyage takes place after the events of Borderlands: The Pre-Sequel and requires at least level 35~ to accomplish. However, due to the requirements of The Gift that Keeps on Giving, I strongly suggest you wait until you're level 50 or so and then finish the DLC on normal. You can repeat the DLC on True Vault Hunter Mode or better if you really want, but keep in mind that you need to complete the story to unlock the hoard mode, which can be quite difficult without help or a serious level advantage. Finally, since Digitize Me! – Shadow Play are story related, they've been left out of this guide.
Guide
Shadow of Your Former Self
Defeated 5H4DOW-TP.
5H4DOW-TP is the games final boss and can be incredibly difficult/tedious unless you have good gear or some sort of level advantage. To help make this fight easier, please look at the tips below:
Glitch weapons, especially if they turn red, can make a substantial difference.
Do not shoot the turrets. They have too much life to make it worthwhile.
Make sure to have at least one gun that is good at taking down shields. Similar to the final boss, 5H4DOW-TP has a couple of shields that you need to deal with.
Ignore the peons. Those enemies are good for quick second winds and don't do enough damage to really matter.
Stand somewhere where you can hide some 5H4DOW-TP attacks. Places with the launch pads help a lot.
Wheely Fast
Outran the Wheel in the Temple of Boom.
In the subconscious there is a mission called "The Temple of Boom," which allows you to enter the aforementioned Temple of Boom. Towards the end of the mission a wheel will fall and you'll be told to leave the temple. The game makes it clear in dialog, but if that's not enough, it will happen when the objectives become "escape temple" and "outran wheel." Simply run forward and jump out of the temple without the wheel hitting you to get the trophy. If you fail to do this, you can try again on another difficulty or join a game where someone is doing/hasn't done the mission and do it.