In recent years Assassin's Creed has become quite the popular title and with it has come a number of spin offs. While some think Ubisoft is oversaturating the market, others are delighted to see their favorite franchise receive so many titles. To help with the summer drought, Ubisoft announced the Assassin's Creed Chronicles series. Taking place in different locations and periods, the spin off hopes to give fans something new to play and give gamers something to look forward to in the summer. Starting with Assassin's Creed Chronicles: China, the series hopes to bring the charm of Assassin's Creed to a 2.5 dimension stealth world. With the two concepts working against each other, is Assassin's Creed Chronicles: China something fans need to play or is it a shameless cash grab?
Assassin's Creed Chronicles: China tells the story of Shoa Jun, a former concubine turned assassin, on a quest for revenge and to reclaim a mysterious box. As you might have guessed, the story isn't that great or memorable, but the real point of the story is to establish a larger story that will take place over the Chronicles trilogy. Though only time will tell if that story pays off in the end.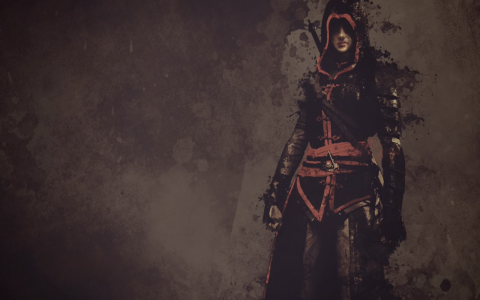 Much like the story, Assassin's Creed Chronicles: China's gameplay is pretty bland. Since Chronicles is a 2.5D game, there is only so much you can do to get around enemies. Thankfully the levels are designed to allow various solutions to the same problem, like you can climb above patrols, distract them, go around them or simply pick them off, though most situations don't require an elaborate solution.
The average situation in Assassin's Creed Chronicles: China is a couple of places where you can hide, with a patrol of two or three people walking back and forth, with an occasional head turn or conversation between the guards (they will be distracted and won't notice your moments). Typically all you need to do is hide, wait for the guard to move past you, progress forward and repeat. Some sections might require you to use a sound dart or make a sound to lure an enemy to you, but rarely do you need to do more than this.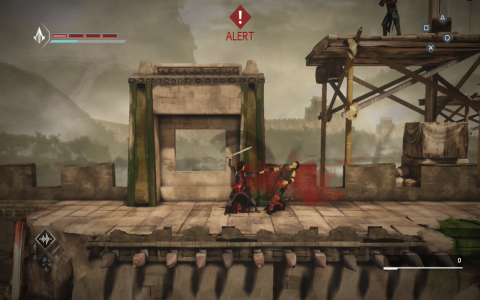 If stealth isn't your thing or you're too impatient to deal with a particular section, you can choose to fight your way though it instead. Considering this is the least desirable way to complete Assassin's Creed Chronicles: China, the combat system is quite simple. You're pretty much limited to a normal or hard attack and a dodge. As you progress you'll unlock new skills, like the ability to counter, but the combat doesn't evolve between mashing attacks with the occasional dodge until the enemy dies. Usually it's simpler and easier to just wait or assassinate everyone, but at least you have the option.
Besides stealth stages there are a couple of rush stages in Assassin's Creed Chronicles: China. Unlike the stealth stages you're graded on how fast you complete them and they're basically a really elaborate and complicated QTE. While these stages are a nice change of pace, I would often die if I did anything wrong, making them fairly frustrating. Like one time I died because instead of assassinating someone during my slide, I just slid into the enemy and died because of the brief delay. Though once you get these stages down or know what you're doing, they can be completed in a couple of minutes with relative ease.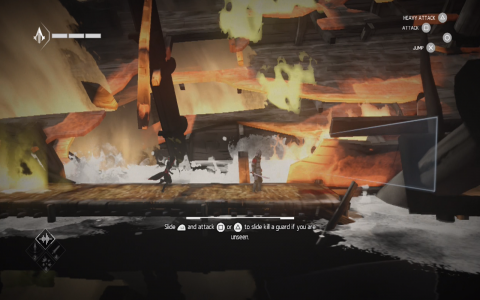 While all this stuff offers a nice change of pace or a different way to play, come the end of the day, Assassin's Creed Chronicles: China doesn't feel like an Assassin's Creed game. Sure elements of the main series are present, like you can perform a leap of faith, a few stages have groups you can hide in, and characters/elements like Ezio and Animus are mentioned, but this could have just as easily been a Prince of Persia or stand alone title/series.
There is nothing present in Assassin's Creed Chronicles: China that moves beyond your generic 2.5d action stealth platformer. You hide in the background, kill enemies (if you want) as they go by, use nifty gadgets to get out alive and alternate paths or hard to get to areas have collectibles. In many ways it's a shame that Assassin's Creed Chronicles: China is so generic, but at the same time there is only so much you can do in such a linear environment. Fans may enjoy the new setting and stylized approach to Assassin's Creed Chronicles: China, plus it's nice to see another female protagonist in the series, but beyond this there isn't much to Assassin's Creed Chronicles: China. Hopefully the remaining titles will offer more, but until that happens, I wouldn't suggest Assassin's Creed Chronicles: China unless you really enjoy stealth games or are a fan of the series.
[Editor's Note: Assassin's Creed Chronicles: Asia was reviewed on PS4 platform. The game was provided to us by the publisher for review purposes.]
Assassin's Creed Chronicles: China Review

,