Much like fighting games, a lot of monster hunter titles get expanded/updated versions before they get a true sequel. This was true for Monster Hunter, Soul Sacrifice, God Eater and now Toukiden. Much like the aforementioned titles, Toukiden: Kiwami is a lot of the same, but with a number of notable twists. Various elements have been expanded upon; three new weapon types and various new mitama and Oni were added, so there is a lot to do. With this expanded edition addressing a number of concerns gamers had with Toukiden, is Toukiden: Kiwami worth your time or is it a lot of fluff and not a lot of substance?
Toukiden: Kiwami tells the story of a small village that is the last line of defense against the fearsome Oni (Japanese demons). While the story largely exists to rationalize the gameplay, the side stories and character interactions are quite interesting. Most of your comrades have a story to tell, which are told through a number of interactions between missions and throughout the story. Though if you don't care about the characters and just want to fight monsters, then you won't miss much in terms of the overall story.
After you finish the first seven chapters, import a Toukiden save with chapter seven completed or do everything in the demo, you can start playing the new Toukiden: Kiwami chapters. The six or so new chapters take place a couple months after the end of Toukiden and covers another invasion with new stories to tell and Oni to fight. So if you've already played Toukiden extensively, you'll still have plenty of new things to see and experience.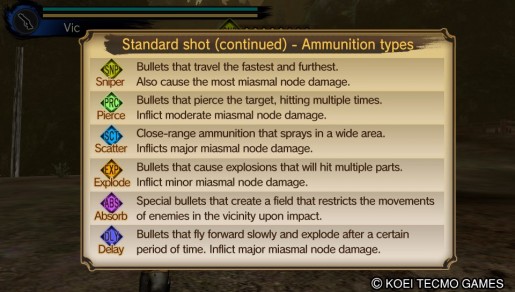 In addition to expanding on the story, Toukiden: Kiwami adds three new weapons. These weapons, which include a rifle, club and naginata, offer various new ways to play and cater to very specific people. The naginata is designed with beginners in mind and works like the spear did in the original. The only difference is that instead of thrusting, you slash. This results in a long-range weapon that can hit multiple targets, making it ideal for any situation. For those looking for a blunt weapon, you'll no doubt enjoy the club. While it's arguably the slowest weapon in the game, it does a lot of damage and can make short work of enemies if you time out your attacks. Finally we have the rifle, which is easily the most complex weapon in the game. Besides having a number of different bullets that work in a multitude of different situations, you must aim the rifle and ideally hit the weak spot on enemies. Considering this weapon is designed with hardcore gamers in mind, do not mess with the rifle unless you want to put in the time to master it.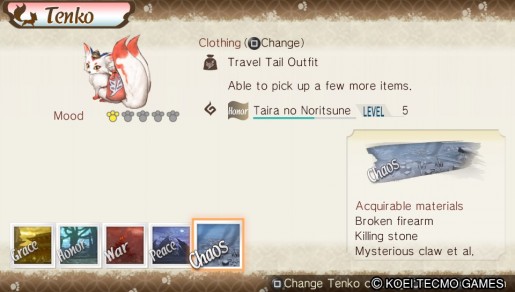 Toukiden: Kiwami also refines various elements, resulting in a deeper and more accessible game than before. One of the biggest changes has to do with Tenko. Instead of simply sending Tenko to far off lands to collect materials for you, Tenko can now take a mitama (spirit that gives your perks/abilities), level said mitama and interact with you if you're on the same battlefield. If you run into Tenko on the battlefield, she will start to follow you and occasionally buff you using the aforementioned mitama or revive you if you fall in battle. Plus you can also unlock new costumes for her to wear.
Another change is the ability to send troops on stand by out on a secondary mission. Said troops will complete their mission while you're doing yours and upon completion of your mission, you'll find out how they did and receive some materials. This decreases some of the grinding required to get better gear in Toukiden: Kiwami and can be quite helpful for those looking to play a game like this, but don't have the time to commit to it. Not to mention the AI are smarter, making them more competent and helpful teammates.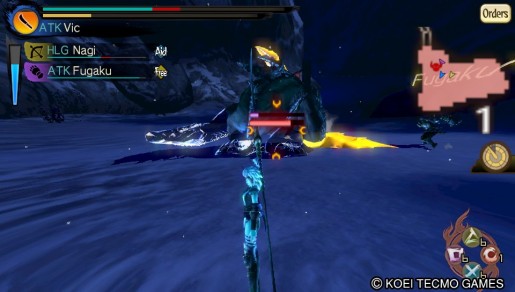 While Toukiden Kiwami has improved in a number of ways, it's still quite straightforward. Most Oni have obvious weak points and obviously telegraphed moves. Not only are your enemies pretty easy to read, most fights boil down to spamming the same moves for however long it takes to kill the Oni. Weapons like the rifle and bow are deeper, but for most other weapons you can find success using the same attacks with relatively no thought. Thankfully this won't work on every boss, but for the most part you can do this with little to no problem.
Toukiden: Kiwami is a welcomed addition to a fun game. Sure Toukiden: Kiwami isn't the deepest monster hunter game, nor does it offer the best story, but it does offer a satisfying experience. With multiple large enemies to fight, the ability to play with your friends online, various missions to complete, several different weapons to use and much more, it's hard to say no to Toukiden: Kiwami.
[Editor's Note: Toukiden: Kiwami was reviewed on the PlayStation Vita platform. The game was provided to us by the publisher for review purposes.]
Toukiden: Kiwami Review

,