For years Nintendo has found a lot of success making games that appeal to both hardcore and casual gamers. Mario Kart, Super Smash Bros., Wii Sports, Nintendoland and even titles like Wii Party are just some of the examples of this. However, no game better exemplifies this than Mario Party. With a mixture of luck and skill it means anyone can win a game, but that also means anyone can lose a game. Now that the Wii U is finally has its Mario Party title, can Mario Party 10 stand up to its previous titles or has the series overstayed its welcome?
If you've played Mario Party in the past, then you know what to expect from Mario Party 10. You pick a board from a small selection, everyone takes a turn rolling a die, something will happen depending on which space you land on and the game will continue until you get to the end. While Mario Party 10 has a simple concept, there is a lot more than meets the eye.
Since every space has an advantage and disadvantage, it's important to plan your moves ahead of time. For instance if you're within three spaces of a Bowser space, you might want to a special die like slow, 4-6 or try your luck with a 1-3 die. The slow die lets you more or less pick where you want to go, 4-6 will put you out of harms way and 1-3 is risky, but puts the next person at a disadvantage if you don't land on the Bowser space. This is part of the reason why Mario Party 10 is such a fun party game, but the other reason is the mini games.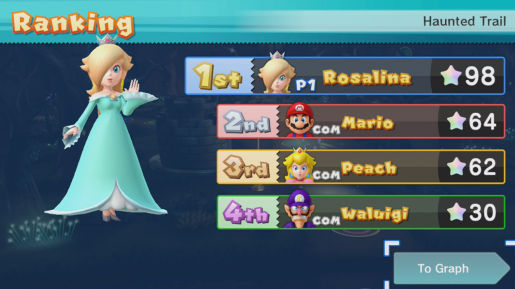 Every now and then someone will land on a VS space, resulting in everyone having to play a mini game. From here the game will have that person randomly select how teams are divided, which range from free-for-all, 2v2 and 1v3. Each type has a number of unique mini-games, which range from luck to skill based, though you can remove the luck based ones or limit the select to "easy" ones if you want to.
Part of the fun of Mario Party 10 is beating the odds and ending up on top. This is because regardless of whether the mini-game is skill or luck based, they're exciting to play. Probably one of the best examples of this is Fruit Cahoots. In this mini-game you need to avoid bombs and collect fruit. To do this you need to choose to either collect your fruit or tell the conveyer belt to move forward one space. So what makes this game tricky/fun? Every move you make has a direct impact on everyone else and vice versa, so you need to figure out what everyone else is going to do before you plan your own attack. Like if the bomb is two spaces away, then you need to be sure that two other didn't select move and you end up getting hit with the bomb. Sometimes you're right and other times you're wrong, but this and many other mini-games give you a welcome sense of excitement.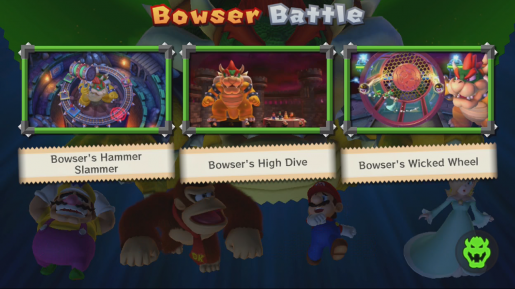 Speaking of excitement, Mario Party 10 also has a new mode called Bowser Party. In this mode one person plays as Bowser and tries to defeat the other four players. Not only is this a new take on the typical Mario Party experience, it's also the only mode that makes use of the gamepad (everything else requires a wiimote). The only downside is that it's fairly slow to start and the mini games feel gimmicky.
At the start of a match the four normal players take their turn and then the person playing as Bowser tries to catch up to them. If Bowser is able to catch up, then a mini-game will start. Most of these mini-games give Bowser an advantage and their overall point is for the person playing as Bowser to simply defeat everyone. This can be fairly difficult if you got luck-based games like bingo (you roll a die, that determines which icons are marked off and people lose life if they get a bingo), though a lot of them are fairly straightforward with the deciding factor being their skill versus yours. But like several of the normal mini-games, a lot of the Bowser mini-games involve gimmicks.
One requires you to blow into your mic to breathe fire; another uses your gyroscope to move flaming objects to defeat people and so forth. This is nothing against creative uses of the gamepad or wiimote, but most, if not all, of Mario Party 10's mini-games could be played without using any of these elements and play relatively the same way. This can be disappointing for some, as games like Nintendoland had more creative and interesting uses for the gamepad.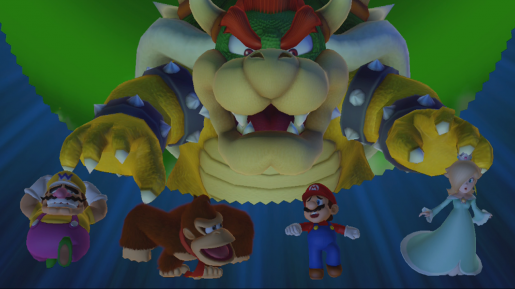 Another disappointment is Mario Party 10's point system. After a mere two games I was able to buy both secret characters, unlock master difficulty, obtain a couple of carts and still had plenty of points left over for other things. This left with no reason to obtain more points, rendering the achievement system, which awards more points, amiibo scratch tickets and a number of other things pointless.
With that being said, there is still plenty to do in Mario Party 10 if you have friends to do it with. Beyond the party modes there is a versus mode and another mode where you can just select the games you want to play. This is nice if you just want to compete, but don't want to deal with the random nature of party mode or wait an indefinite amount of time for another mini-game. Plus most of the games are unlocked by default, so you don't need to even touch party mode if you don't want to or worry about never getting a certain game.
Mario Party 10 is basically what you would expect from a Mario Party game, which isn't exactly a bad thing. It doesn't try to redefine the series, nor does it use the gamepad in a new/interesting way, but it's still a satisfying experience. If you have friends, a couple of wiimotes and want to play against them, then you'll no doubt have fun with Mario Party 10. If you plan on playing against the AI or are hoping that the gamepad vastly changes the game, then you're probably better off skipping this title.
[Editor's Note: Mario Party 10 was reviewed on Wii U platform. The game was provided to us by the publisher for review purposes.]
Mario Party 10 Review

,