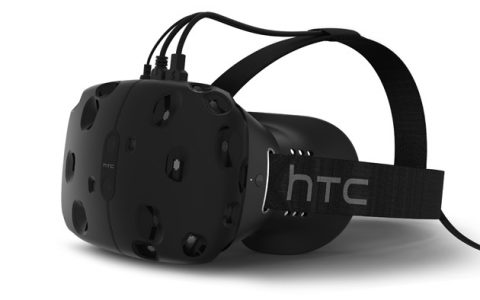 Last month we saw a leaked preview of a VR device from Valve which had been dug up on the Steam Universe signup page, and now we have confirmation of this device, and Valve's unlikely partnership with HTC to make it happen.
The Vive, a virtual reality headset meant to compete with the Oculus Rift, has been announced by HTC and Valve, which will be available to consumers later this year and a developer edition coming out as early as this spring. The first chance to see the Vive in action will be this next week at the Game Developers Conference.
The Developer edition of the Vive uses two 1200 x 1080 displays with a refresh rate of 90 FPS and are designed in such a way that the two companies call it the most immersive VR experience you'll be able to find on the market. HTC stated in an earlier press release that it is the first to offer a VR device with a "Full room-scale" experience, "letting you get up, walk around, and explore your virtual space."
The mash-up between HTC and Valve also caught the attention of several other big-names wanting to jump on board, such as Google, HBO, Lionsgate, Owlchemy, Vertigo Games and Dovetail Games, so we may see more than just gaming come from the Vive, but a completely redefined way in which we interact with many aspects of our daily lives. However, this wouldn't be the first time a VR Headset got overhyped as a game-changer, so we'll have to wait until we're able to preview the Vive in person to see if it lives up to it's expectations.