For years people have been waiting for Final Fantasy Type-0 to release in the West. After countless teases/hints it seemed inevitable, but for one reason or another it never seemed to happen. That is until Final Fantasy Type-0 HD was announced at last year's E3. With enhanced graphics, new cutscenes, and the power of a home console, is Final Fantasy Type-0 HD worth the wait or is it a mediocre game that only sounds good because Final Fantasy is in the title?
Final Fantasy Type-0 HD starts in the middle of a conflict resulting in the death of Izana. From here the game follows class zero and the ongoing war over control and the crystals. While this sounds like the makings of a dark and interesting story, it's actually quite confusing and rather awkwardly told.
Instead of a more traditional story, Final Fantasy Type-0 HD is told through a series of side stories, additional scenes exclusive to new game plus and cutscenes that make more sense as you progress. While this isn't a bad way to tell a story, it takes a bit of time before things start to click and even more if you want to really know what is going on. This wouldn't be a bad thing if the story was that fascinating to begin with, but for most people the most enjoyable and memorable part is the gameplay.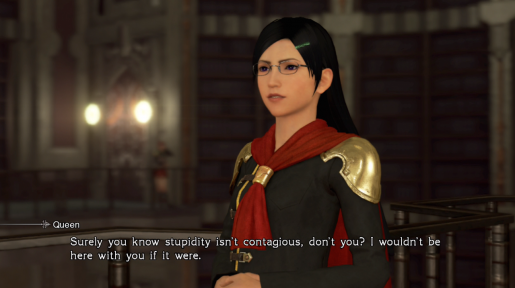 Taking a page from Crisis Core and Kingdom Hearts, Final Fantasy Type-0 HD is an action RPG. You start by taking control of one of the fourteen members of class zero. Each character has their own unique playstyle, in addition to offering different advantages, weapons and powers. For instance Ace uses a deck of cards, Deuce has a flute, Seven has a chain whip and so forth.
Despite Final Fantasy Type-0 HD offering a fair bit of diversity, the game tries to give every character a chance to shine. Some of the bosses/situations call for ranged combat, where as other sections are much easier with a melee fighter and even certain enemies/optional objectives require you to use magic.
The only downside to the combat system is that it rewards the patient and punishes those who play it like Dynasty Warriors. This is due to how the combat is set up. Once you lock on an enemy you'll eventually see a yellow and red circle appear. If you hit them during this brief moment you'll do considerable damage and in some cases instantly defeat the enemy. This makes the combat feel a little deeper and since you can't cancel out of attacks, you're better off playing smart.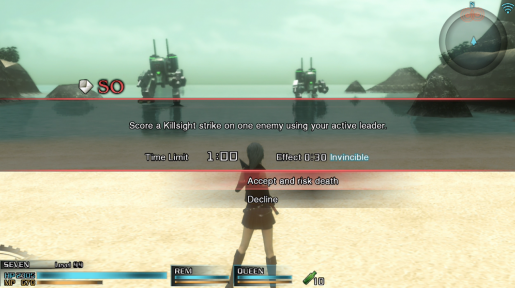 In addition to the various weapons and playstyles, Final Fantasy Type-0 HD has optional objectives in the form of the S.O. system. How it works is if you agree to do them, you'll randomly receive a letter with some sort of objective. Most of them are simple things like survive for a couple minutes, don't take damage, kill enemies, where as others are unique to the situation/stage. Doing these missions will give you various boosts and story related missions have special items, although all this comes with a price. Failing your objective for any reason will result in your character dying. This can be avoided by using a spell or dodging the attack, as can declining missions you don't want to do, which makes the system more thrilling than threatening.
Another stand out feature in Final Fantasy Type-0 HD is that it has something for everything. Between story missions you can breed chocobos, watch optional events, talk to people around the town, train, complete tasks and much more. If this stuff doesn't appeal to you, then you can simply talk to an NPC and jump to the next story mission. This will put you at a slight disadvantage, as you'll have less items, unlock fewer items and miss out on some of the side stories, but a fair trade off if you don't want to do any of those things. Finally for those of you who don't have a lot of time to devote to an RPG, you can go on secret missions that will level your character for you.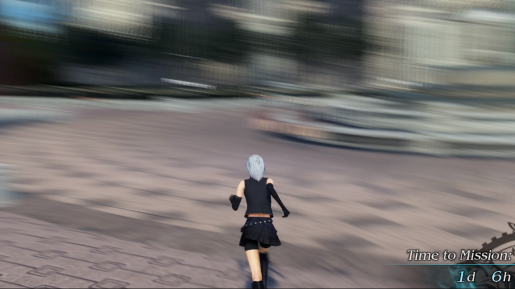 As good as the gameplay can be at times, it can also be just as bad at other times. Arguably the biggest problem is the camera. Moving it, even so slightly, causes it to fairly quickly and blurs the world around you. Besides the camera, Final Fantasy Type-0 HD has an issues dealing with multiple commands at once. To use your healing power you need to stop moving, sometimes resulting in your death or additional damage, as any movement plus that input results in a dodge. Lock on priorities living enemies often resulting in you missing opportunities to harvest enemies, which also cause you to attack if you push the button too early. Not to mention the limited number of attacks, basically forcing you to set up multiple characters, only characters used on a mission receive experience/unlock better gear leaving others in the dust, phantoma can be slow to get and can make maximizing your magic an extremely tedious process and things of this nature.
These problems also translate into the games world. Every now and then you'll have to find a stone to change your character in order to activate an event or complete a task. As you progress you'll start to find that you're simply not given enough time to see or do everything, forcing you to pick and choose what you end up doing. Even going between towns can be a long and boring process considering most towns are quite small, consisting of a shop or two plus a quest line. If that's not bad enough, Final Fantasy Type-0 HD doesn't always make it clear when you unlock something new. Like when I unlocked the arena I noticed a single pop up in passing, with no indication what the arena is or where it was located besides I could go there. The game goes for expert missions, which are a series of optional high-level missions that unlock additional towns/places/story for you to experience.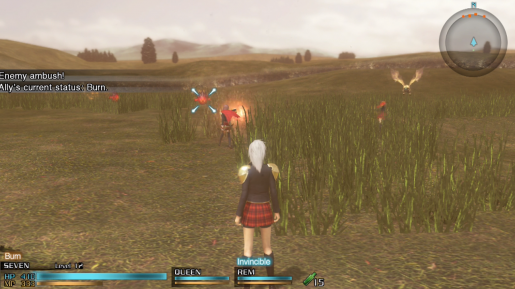 For those of you who care about graphics, don't expect a lot from Final Fantasy Type-0 HD. For the most part it looks fine, resembling a cheaper/lower budget game last-generation, but at other times characters can look rough and the details can look pixelated. Then you have other scenes that look much better than the rest, which are probably those created for Final Fantasy Type-0 HD. Those seemed to be far and few between, but the basic idea is that the game looks fine, but don't expect something on par with current-generation standards or even high quality games from last-generation.
Final Fantasy Type-0 HD is basically a lot of good or at least interesting ideas that could have been done better. Exploring the towns and world is fun, but there is little reason to return unless you want to complete every task. The controls are fine most of the time, but can feel counter intuitive at other times. Even the story feels like something that could have been better, had it been handled a different way. In the end Final Fantasy Type-0 HD is basically a decent to good action RPG. There is no doubt it could be a much better game with a couple of changes, but if you don't mind playing a more tactful action RPG, then you'll probably enjoy Final Fantasy Type-0 HD.
[Editor's Note: Final Fantasy Type-0 was reviewed on PS4 platform. The game was provided to us by the publisher for review purposes.]
Final Fantasy Type-0 HD Review

,