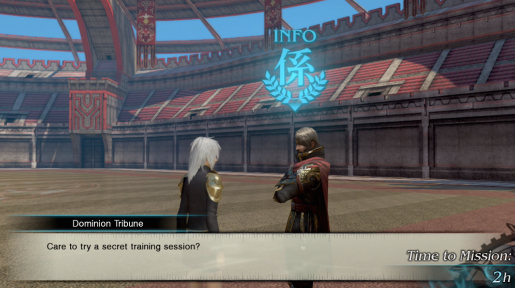 While RPGs can be a deep and rewarding experience filled with optional content, crazy twists, and untold layers of depth, but they can also be tedious and be huge time sinks. Among the biggest time sinks is leveling, but with this trick you can easily progress in Final Fantasy Type-0 HD with minimal to no effort.
Set Up
Before you can start power leveling your characters, you need to unlock the arena. This unlocks during the third break during the second chapter of the game and can be used any time after that. Once you do this, exit from the main gate and head right. The guard should be gone and there you'll find a new location called the Arena.
How to Power Level your character
Once you get to the arena, talk to Dominion Tribune. He will offer you "secret training," which is basically a mode where your character trains while you're away. Accept the training and save the game. After you get sent back to the title screen head to your system settings and edit your date and time. I suggest going forward one year, so you maximize your reward, but anything after like an hour should yield some result.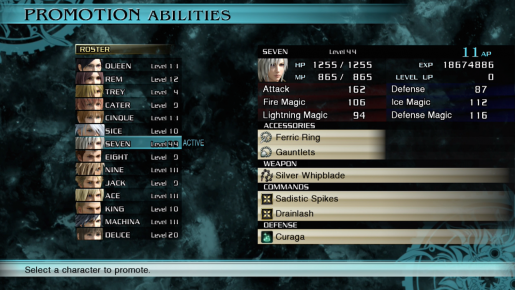 Upon changing the date, load your save and you should be greeted with the Dominion Tribune commenting on your awesome training. The game will then give you a bunch of experience and the occasional AP boost, which should level your character. I found that you gain about 3 or 4 levels up to level 50, about 2 levels after that until you hit level 90, and then the rest will come to you 1 at a time.
I found it that you can get a character from level 10 to 99 in about 40 cycles, which can be done in roughly 30 minutes. Things like luck, starting level and how long it takes you to do it can impact your overall speed, but it shouldn't take more than an hour to fully level a character. Naturally this is a good way to keep characters you don't play as relevant or simply avoid a grind so you can do the next story stage.
Video Guide
If you're having problems finding the arena or anything said here, you can see all of it in action in the video below.