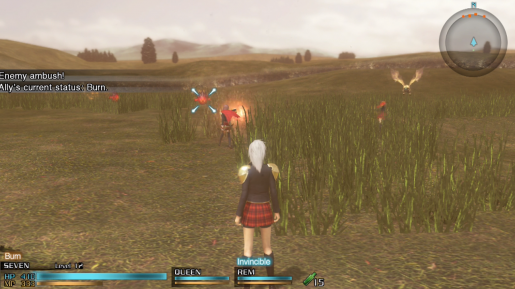 While RPGs can be a lot of fun to play, they also require you to figure out a bunch of new things, inevitably resulting in you either missing something or having a bunch of questions. Final Fantasy Type-0 HD might be a relatively straightforward game, but there is a lot of content and mechanics you might not know about, which can make a substantial difference on your experience. To help you make the most of your play through, we made a brief guide explaining how some of these things work, why they're important to do and what shouldn't be missed.
Which difficulty should I play?
At the start there are three difficulties to choose from. The first two are similar, with the final one, Agito, adding 30 levels to the enemy. This is a fixed amount, so you can eventually match their level and even surpass it if you want. So which one is best? Well I strongly suggest sticking with Officer and either coming back to Agito or using the power leveling trick to get your team up to their level and stopping.
This is because Final Fantasy Type-0 HD gives bonuses for completing a mission at a certain difficulty. Those who play on Cadet will be missing out on a lot of weapons, magic, summons and things of this nature, so unless you just want to experience the story, you'll be missing out by playing on that difficulty.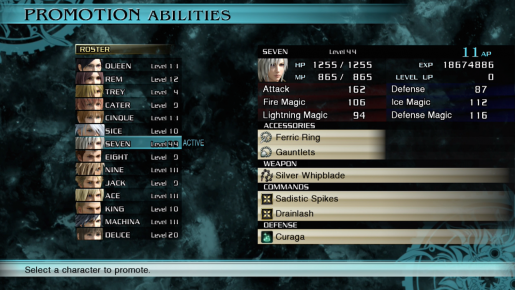 Best Character
One of the first things people want to know is who is the best. While there are a lot of really good characters, such as Rem on support, the best character is always going to be the character you enjoy playing as. With that being said, I would say that Deuce, Seven, Trey and Jack take some getting use to. That's not to say they're bad characters, not by a long shot, just that Rem with her dual swords is far simpler and easier to use than any of these characters.
Beyond this it's always good to play as whatever characters the game suggests. These characters will be highlighted in gold and will generally have some sort of advantage. Like the stage has a lot of distance enemies, so a distance fighter like Trey helps a lot.
Which abilities should I unlock first?
The first abilities you unlock should always be the passive and practical ones. These are things like Accelerate, Twinspell, Triple Slip, Slipstream, Untouchable, Quick Reflexes, and Combo Bonus. From there the only secondary ability I think is important would be Undying Wish. This is because it casts Reraise, which allows you to die, fail an S.O. or use a skill that would kill you without penalty.
S.O. System
Upon unlocking the town you'll have a number of new things to see and do. Among them is turning on the S.O. system, which is located in the Sorcery, which can be warped to by using the great portal. There you will find the Grandsorcerer with an Info icon above his head. Simply talk to him to enable this.
Once you have them enabled you'll start getting messages during missions offering you a task and some sort of bonus for doing the objective. So you might have to find three collectibles in two minutes and accepting this mission will give you Haste for 1 minute (increased movement speed). From there you can run around looking for the collectibles and complete the mission.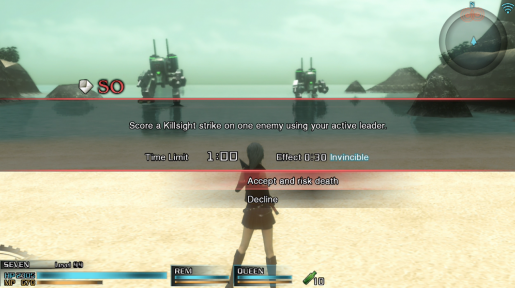 To maximize the effectiveness of these missions, I strongly suggest trying to do every mission that comes in a red envelope. This is because red envelopes indicate this is a story S.O. and not a generic S.O., which basically means you'll get a special reward for doing them. Most of the time these rewards are extremely powerful and far superior to whatever gear you currently have access to. These are things like +80% HP, 40 defense and other large stat items that will make your travels easier.
As with all good things these come at a price. Failing an S.O. by either messing up the objective or running out of time will result in your death. These can be avoided by spamming dodge, leaving the room to cancel out of any active S.O. or you can cheese it by casting Reraise on yourself, but I suggest reading every objective before you commit. Final Fantasy Type-0 HD has a bad habit of giving you missions that are after a certain point impossible to do. Like if you need to find three items and you have one, then it's impossible to do. There are also some that require very specific things to happen, which if you're not careful, can result in your early demise.