Over the years Gearbox has done a good job of expanding the world of Borderlands. What was once a simple loot game with a simple story and amusing character interactions, quickly became a rich world with countless stories to tell. While Borderlands 2 didn't have the best DLC, each pack tried to expand on different aspects of the world. Mr. Torgue and Captain Scarlet introduced us to new characters and explosions, where as Hammerlock and Tiny Tina attempted to give the aforementioned background characters depth. Naturally with Borderlands: The Pre-Sequel! giving Handsome Jack some depth, Claptastic Voyage attempts to do the same with Claptrap. Does Claptrap have what it takes to be the lead or is he better in small doses?
Claptastic Voyage basically does the opposite of what Tiny Tina's Assault on Dragon Keep did. Instead of being a random story that ends with an emotional conclusion, Claptastic Voyage is an emotional journey that ends with a joke. Considering Claptrap is the butt monkey of the Borderlands universe it makes sense, but that still doesn't stop it from being disappointing.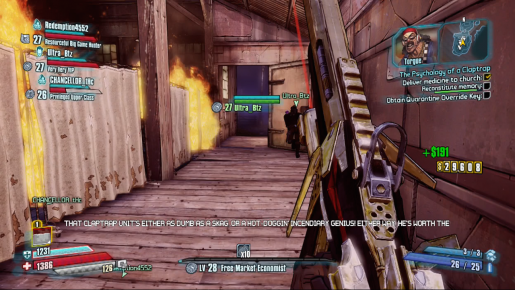 Arguably the best part of Claptastic Voyage is Claptrap admitting, at least on some level, that he knows his "friends" are dicks and his optimism and good nature will never bear fruit, but he is also okay with this. It was an interesting choice to note that Claptrap isn't completely oblivious to the world around him and shows that he is more than the happy-go-lucky boob he was made out to be. While the DLC got that point of the story right, the experience still felt off.
Similar to Borderlands: The Pre-Sequel!, Claptastic Voyage is more interested in fan service than anything else. Considering the story fills in the gap between Jack taking over Hyperion and the destruction of the Claptrap line, the story serves no real purpose beyond giving Claptrap some well-deserved depth. Beyond that the DLC explains why Claptrap sometimes vocalizes rave music sounds, where Torgue got the idea for his Campaign of Carnage and other things, but these things didn't need to be explained. Ultimately these things stop Claptastic Voyage from being more than a series of callbacks and references to things that have already happened.
While the story is an interesting idea that was poorly executed, Borderlands is all about gameplay, which is one area Claptastic Voyage doesn't completely disappoint. As mentioned above, the DLC is about giving Claptrap depth, so the world is filled with subtle nods to who Claptrap is, what he want to be and how he sees the world. Throughout the DLC you'll see messages touching on who he is, like "You'll always fail at 100% of the things you try" and most of the enemies are glitches/errors in his coding. Plus some of the viruses adapt to the situation, so you can't use rely on a single element to dominate every situation.
As you progress through Claptastic Voyage, the world starts to become more surreal. This allows Claptastic Voyage to stand out from the base game and offers a unique experience for those willing to take it. Sometimes the world can get a little too weird, like one of the quest givers is Tannis' face on a fish body (probably a reference to Seaman), with another being a racist hot dog. These quirky elements are uniquely Claptrap and offer some amusing jokes/laughs to supplement the gameplay.
In addition to new locations, enemies and elements, Claptastic Voyage adds new weapons. Among them are the new "glitched" weapons, which offer a new way to play. These weapons are similar to Claptraps action skill in Borderlands: The Pre-Sequel. Every now and then the weapon will change color, causing it to behave differently. Blue is neutral, red is high damage, slower rate of fire and yellow is continuous fire. Used at the right time these weapons can make a substantial difference, though more often than not they're just a fun change of pace. Claptastic Voyage also includes new legendary weapons and head for your vault hunter.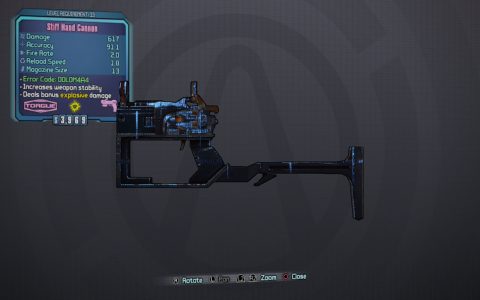 The only real downside to Claptastic Voyage's gameplay is the lack of a raid boss. Instead you're given another onslaught/hoard mode, which offers different modifiers and difficulty settings, but it's a shame that there isn't a special optional boss after the DLC. With that being said, if you like challenging bosses, then don't worry about Claptastic Voyage. The final boss is quite difficult and feels like more of a raid boss than the actual raid boss, the Invincible Empyrean Sentinel, ever did. Even with good gear and multiple people, don't be surprised if you die multiple times and spend some time taking him down.
Claptastic Voyage ultimately follows suit with Borderlands: The Pre-Sequel!. The story is interesting and well done, though it ultimately serves no purpose besides expanding on Claptrap and throwing out callbacks to Borderlands 2. The new levels, enemies and weapons are nice, but much like seraph weapons in Borderlands 2, the new weapons are more novelty than functional. So unless you want to know more about Claptrap or play Borderlands: The Pre-Sequel again, there is no point to buying Claptastic Voyage.
[Editor's Note: Claptastic Voyage was reviewed on PS4 platform. The game was provided to us by the publisher for review purposes.]
Borderlands: The Pre-Sequel Claptastic Voyage - Review

,