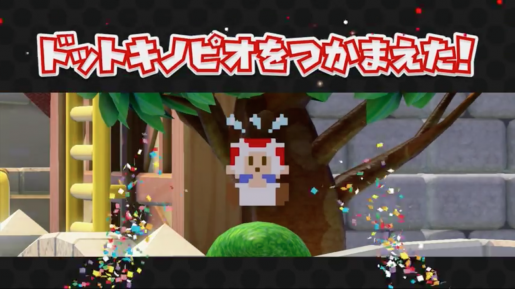 Shinya Hiratake, Director of Captain Toad: Treasure Tracker; A Budget AAA title puzzle game with light platformer elements, had confirmed in an interview a while back that his title would be receiving amiibo support sometime in a future update. It has already been confirmed that older amiibo's would reward players with a 1-up mushroom for each, he hadn't gone into detail about what the future Super Mario amiibo's would add to the game after their launch later this month. Hiratake simply stated that the new amiibo's would "open up extra asks of finding pixel Toads in levels". However, Nintendo of Japan just posted a video showing what these amiibo's will introduce to the game, giving players insight to just what Hiratake meant.
When you go to use your amiibo with the GamePad, players will find themselves dropped into a specific part of a level and given ten seconds to find the pixel toad hidden in the level somewhere by panning their GamePad camera's around the environment. Players will then have to ensure that the pixel Toad is in the zoomed frame by the end of the countdown in order to complete the mini-game.
The video does not show if there is any reward upon completing the pixel Toad search, but the mini-game itself is a fun enough addition. What do you think?