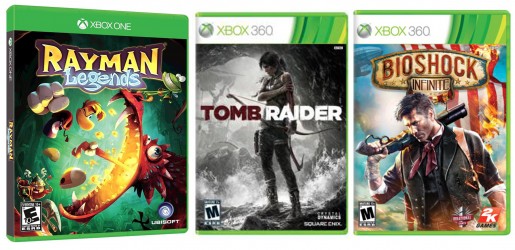 Get ready for three great titles that will be free to Xbox Live Gold members, thanks to the Xbox Live incentive Games with Gold which provides free game titles each month to its members, along with exclusive deals and discounts.
Rayman Legends: Available March 1-31 on Xbox One
Tomb Raider: Available March 1-15 on Xbox 360
BioShock Infinite: Available March 16-31 on Xbox 360
This month sees some top titles making their way into member's libraries, from Rayman Legends, one of the best platformer games ever made, to the award-winning shooter BioShock Infinite, and then let's not forget Tomb Raider, a reboot of this classic series. All three of these games can be yours when you're an Xbox Live Gold member for the month of March. There is really no way to lose, these titles are all iconic games that are a must have for your library!