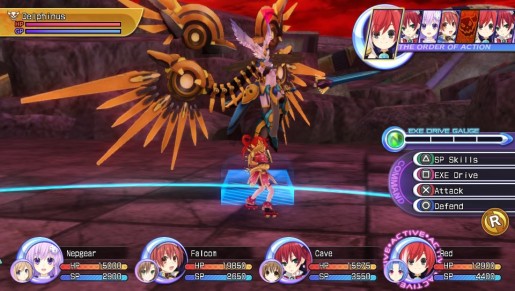 For the most part, you can complete Neptunia Re;Birth and Re;Birth 2 by simply buying better equipment and spamming random attacks. But when you face some of the later bosses in the colosseum, you might be surprised to learn you won't be successful with this tactic. Thankfully all hope is not lost, since all you need to do are make a couple of minor tweaks to overcome these new obstacles. Since this can be confusing for some, we made a quick guide to help you defeat Delphinus and the other level 99 colosseum bosses.
Set Up
Before trying to defeat Delphinus or any of the level 99 colosseum bosses, you should be level 99 and have done everything else in the game or at least received the true end. This is because things like Stella's Dungeon, Holy Sword, True Ending and other colosseum fights have high-level gear that makes this fight much easier.
Now for this fight I used Nepgear, Neptune, Noire and Vert because you can get their top tier armor early on (white kitty strap, shitake bracelet, monkey bracelet), they all have HDD forms and are quite powerful. I also gave each of these characters a CPU Ageis and a disc that had multiple EXE boosting perks, plus unlocked the EXE boosting perk via the plan system. Once you have all or at least most of this, you're ready to fight these bosses, but first you need to change your set up.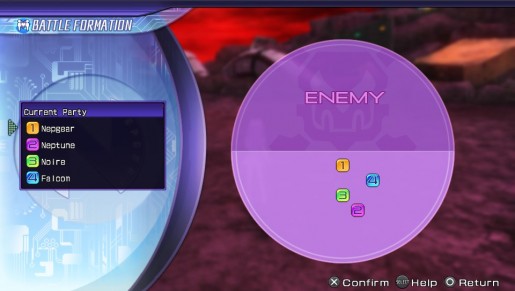 Before going into this fight, you want to change your formation so your team is close, but spread apart. You can see my formation above, although any formation where you can help multiple people and Delphinus doesn't attack on its first turn is fine. Next you want to go into the command menu and select combo skills. Here you want to make sure every characters has their 62 CP set for their rush attack and an exe finish. Once you've done all of this you're ready to fight Delphinus.
Fighting Delphinus
What makes Delphinus so difficult is that they can heal a lot of health and they hit quite hard. To counter this you want to start by having everyone go HDD mode and use your buffs to increase all their stats. If you're using a character that doesn't have a buff or at least a good one, you can always use blank booster Z items. Contrary to what two of them say, all the Z items affect an area and will buff your teammates with in two stats.
After your team is buffed, you want to start attacking Delphinus with rush (triangle) attacks. Keep doing this until you have maxed out the EXE bar. This is because you need several heavy attacks to prevent Delphinus from healing it all back.
Once you know who has the strongest/best attacks against Delphinus, start to save your EXE attacks for those characters, with the remaining two or three doing damage so you can maintain your EXE bar. Rinse and repeat until Delphinus or whatever boss you're fighting dies.
Please note, it might take a couple of attempts to be successful.