For a while the Nintendo Wii U has been on fire. With strong releases like Bayonetta 2, Mario Kart 8, Super Smash Bros. for Wii U, and Captain Toad: Treasure Tracker,interest in the system is at an all time high. So naturally many are excited to see if the latest Kirby title, Kirby and the Rainbow Curse, can live up to previous titles and the current high standard for first party Wii U titles. With an interesting art style, the amazing world of Kirby, plenty to unlock/do and amiibo support, is Kirby and the Rainbow Curse worth your time or is it all razzle and no dazzle?
Similar to Kirby: Epic Yarn, Kirby and the Rainbow Curse is done entirely in clay. Not only does this give the world an earthy feel, it's a charming new take on the world of Kirby. Everything is so lush and vibrant; that you can't help but be drawn to the minor details here and there or notice how well the concept works in this world. In addition to looking nice, Kirby and the Rainbow Curse also applies similar physics to the world. Hitting a wall will cause it to push inward before pushing you outward, you'll stick to the rainbow lines you draw, and even your transformations fit the style of the world, instead of what is expected of a Kirby title.
As great as the art style is, Kirby and the Rainbow Curse is severely lacking in the controls department. Like Kirby: Canvas Curse, you need to draw lines on the gamepad to control where and how Kirby moves. For the most part this isn't too bad, but a number of sections, parts and elements require a lot of precise moves to effectively accomplish.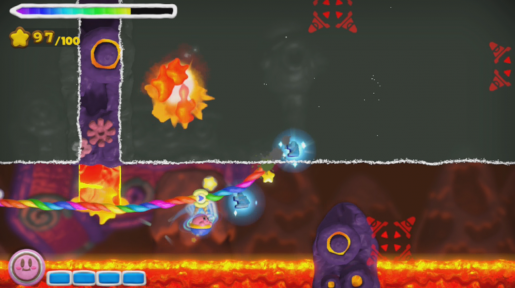 For instance you might have two or three seconds to draw a line to get Kirby from point A to B, but the line can't be too low, short, and must slope in the end in a way where you'll land on the next section. Failing to this correctly usually results in death, ultimately forcing you to keep trying until you get it or you accept the games offer to skip the level.
Not only can this be frustrating at times, but there is a lot of repetition required to do everything Kirby and the Rainbow Curse has to offer. Every level, save boss battles, give a medal for collecting stars, has five treasure chests to find and has a secret diary page you can unlock. In addition to these collectibles, you can also unlock challenge stages by performing various feats. These include getting a certain amount of medals, performing various tasks or beating a boss without taking damage.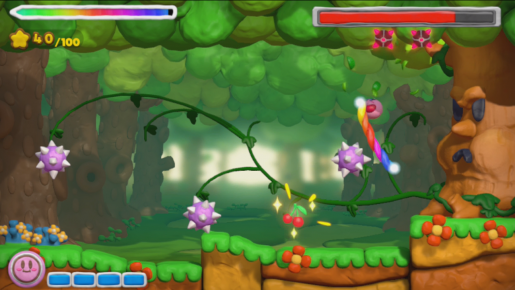 As the name might suggest, challenges are a series of mini-games where you need to perform a specific task in a couple of seconds. This might include getting from point A to B, killing every enemy and then collecting an item, collecting stars and so forth. After completing the stage, you'll be awarded a medal based off however many challenges you complete. This offers a nice change of pace if you enjoy the fast and intense sections of the game and will just frustrate you if you're not that good.
Besides mini-games, Kirby and the Rainbow Curse also has bosses you need to defeat. These battles are less about fighting the enemy and more about using the mechanics in an interesting way. So instead of just getting Kirby to hit the boss, you need to use the ropes to protect him for damage, collect items and dodge attacks. They offer a nice change of pace from the rest of the game and are usually more exciting than the more intense parts of the campaign.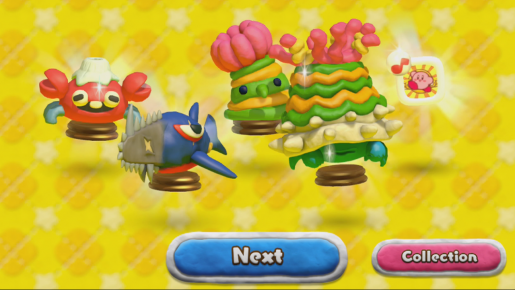 In a lot of ways Kirby and the Rainbow Curse isn't a bad game, it could just be better. While the world looks gorgeous, Kirby and the Rainbow Curse is ultimately held back by timed sections or tricky sections with strict timing. Sure neither of them are impossible without a bit of practice, but the controls can get messy by making the slightest mistake, ultimately making a simple task quite frustrating. Though if you don't mind taking the time to master the game and make the most of your strokes, then you'll probably have a blast trying to unlock all the secrets and extra things to do in the world of Kirby and the Rainbow Curse.
Kirby and the Rainbow Curse Review

,