Over the years many games have gotten a lot of mileage out of fighting giant enemies. Be it Monster Hunter, God of War or Lost Planet, many games have offered a their own take on how to do these fights. Then we have Evolve, which tries to incorporate a competitive aspect to a traditionally cooperative activity. By allowing one player to be the giant monster and hunt down another group of players, we have a unique take on the concept, but is that enough to make a good game?
When you first start playing Evolve, you're greeted with a brief tutorial on how to play the game. The first tutorial covers the Goliath monster and if you're able to beat that tutorial in less than six minutes, you unlock one for the Hunter. These tutorials are more about how to play as a Hunter or Monster than what to do as a Goliath or Markov the assault class Hunter, so they're a great starting point for anyone. From there all further explanations are done via videos that play the first time you select that character or selecting them via the gallery. These two resources do a good job of explaining how to play, but don't be surprised if people still fall short.
Since Evolve has to make things fair for both teams, there are a lot of restrictions in place. Among them is having a set team that will always consist of a medic, assault, trapper and support character. Each class has three different characters to choose from and offer a different take on the basic idea of the class. For instance Markov is great for defending because of mines, Hyde is okay in any situation thanks to his toxic grenades and minigun, where as Parnell is a damage dealer, although they're all part of the assault class. However, what's really important is knowing what your role is and accomplishing it.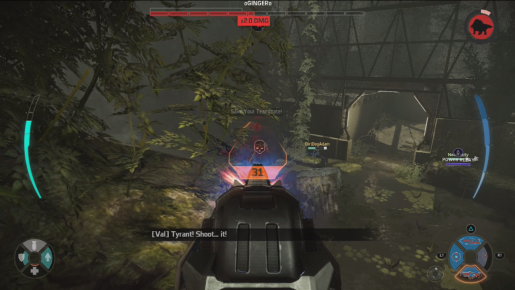 For the Monster it's pretty simple. All you need to do is kill creatures, eat them and evolve without getting killed by Hunters or losing the objective. Hunters are a lot more complex, since you have four classes that need to accomplish different tasks. The trapper is there to find the Monster, prevent it from escaping for a period of time and restrict its movement. Medics heal/revive people, create weak points on the monster, among other things. Next we have the assault class, which is basically just the damage dealer and support is more or less a jack-of-all-trades class.
While all of this is great, it's also Evolve's biggest problem. Due to class restrictions when you play online, you're bound to end up playing as a class you either don't like or aren't that skilled in. Evolve attempts to avoid this problem by allowing you to select your desired class and your preferred order, plus you can request that someone switches with you, although I found them to be hit and miss. Like I've played evacuation and had the game put me as the Monster, my least desired role, resulting in me having to play up to five matches as this character or quit to find a new room. Obviously this will vary depending on who you play with, what roles they prefer and other factors, but it's also important to understand how limiting and frustrating this can be.
As I explained above, all of this is done to balance out the game and because each class has a specific function they need to accomplish. The issue with forcing people to play as classes they don't enjoy is that it weakens the team on two levels. This starts with people not maximizing their classes' potential. I've played with medics that only wanted to snipe, support that never supported anyone and trappers that never trapped. The other thing is that this choice limits potential strategies for the game. Instead of giving us the ability to sacrifice one advantage for another, resulting in a multitude of different tactics and challenges to overcome, you have a small pool of characters/weapons that you need to plan for. That's not to say you can't use the levels to your advantage or come up with interesting tactics for each character, just that going into a match you know what to expect from a class or who to target to secure victory. You'll see this a lot when you play with the AI, as the AI likes to target the medic first, followed by assault, trapper (I believe) and then support.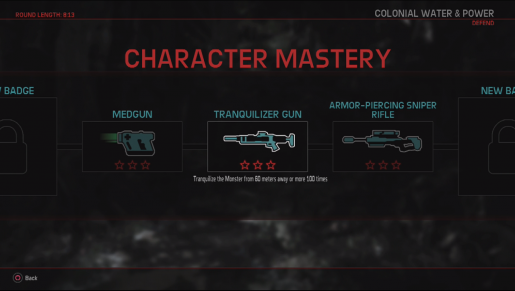 Another big issue with Evolve is the upgrade system. Now there are two different ways to upgrade your character. The first is gaining experience by earning medals and accolades and the other is performing specific tasks as a character. The latter way is used to buff your attack, unlock additional characters/monsters, in addition to unlocking new emblems/costumes. So what's the issue?
One of the biggest complaints about online trophy/achievements is that they alter how some people play the game. The same is true for the upgrade system in Evolve. To progress you need to finish leveling every skill, meaning people will change their playstyle to accommodate this. In a couple of games I had medics that would let teammates die so they could revive them, assault focus on grenades/mines and so forth. Naturally this contributes to people failing to accomplish a specific task, ultimately making things easier for the other team to win.
Despite Evolve having some potential problems with teammates and playstyle, the game tries to maximize on the basic concept as best it can. Most of the maps are quite spacious with different advantages and challenges to overcome. Don't be surprised if you see something waiting for you in the grass, a creature tries to eat you because you're too close to water or the Monster uses these elements against you. Every map also has a number of modifiers that give one side an advantage, such as jamming electronics, more creatures/hunters, poison gas clouds, the ability to teleport and so forth.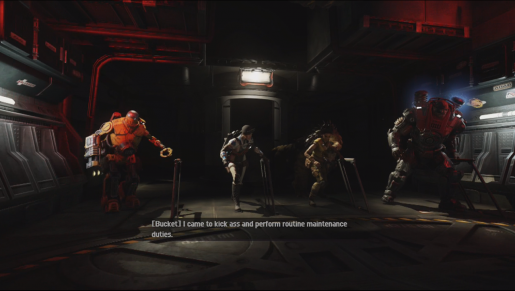 In addition to varied maps/modifiers, Evolve also has a couple of modes that offer different advantages and disadvantages. The first is Hunt, where your objective is to kill the Monster as quickly as possible. Failing to do so will result in the monster reaching its third stage where it has the power to destroy the objective. At this point you need to either kill it or die trying to end the game. Next up we have defend, where the Monster and some minions need to invade your base and destroy a generator. This challenge is that the Monster needs to make the most of the minions and Hunters need to prevent their base from being overrun. After that there is Nest and Rescue, which are basically the same mode with different leans. In Nest the Monster needs to defend eggs against the Hunter and can hatch one for a minion, where as Hunters need to revive people and get them to safety in Rescue.
The final mode is called evacuation and is easily the best mode in the game. Here you need to play five matches with various rules/conditions. The second, third and forth matches are based off a vote between two modes and the conditions are based off what happened on the previous map. If you needed to prevent the monster from destroying the generator and you failed, then the next map will have toxic gas clouds that hurt Hunters. The next map will always favor the winner of the previous map, so losing is not an option. At the end you'll need to play a game of defend and based off how well you did you'll receive a substantial experience boost.
In the end Evolve is a good game that has some serious rough patches. A lot of the levels blur together due to similar designs, the balancing can be frustrating at times, there really should be a tutorial for every character or at least every class, but once you get past it Evolve can be a lot of fun. Unfortunately a lot of your enjoyment is going to be based off what others do, though you can always play offline if you just want to play your way.
Evolve (PS4/PC/X1) Review

,