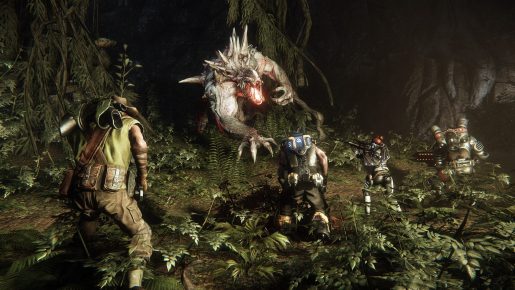 In Evolve there are a number of different monsters and hunters you can play as, but most of these characters need to be unlocked. While none of these characters are particularly hard to unlock, it can be a tedious process going through the steps to unlock them. Thankfully there are a couple of ways to decrease the grind that doesn't require you to boost with others or play countless games trying to do a specific task.
How do you unlock other characters/monsters?
To unlock a new character/monster you need to get one star in each of the starting categories. So if you're playing as Goliath, you need to get one star in rock throw, leap smash, flame breathe and charge to unlock the Kraken. To get the star you need to perform whatever task the game is asking of you, which can be seen at the end of the mission.
For the most part you just need to do a specific amount of damage and it will come with time, where as others require you to hit multiple targets in one strike or use the thing so many times. None of them are too bad, although it can be annoying using the same attack simply because you need experience with that skill. Plus characters are the first unlock, meaning you can power through characters you don't like to unlock them all or get to the next tier. For those that you do enjoy, there is a special skin and emblem you get for maxing them out, in addition to a trophy/achievement.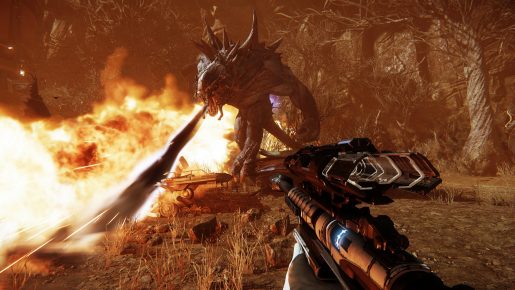 Quick Leveling: Set up
If you want to quick level, then I strongly suggest you play solo for a couple of reasons. The first is that you have full control over the game and can make whatever changes you see fit. So if you want more targets, you can add them and if you want to jump between classes, then you're free to do so.
The general idea is to play smarter, not harder. So if you want to level a Hunter, then you're going to want to play Nest and Defend mode. And for Monsters you'll want to play Rescue mode.
It doesn't matter which map you pick, although I strongly suggest editing the map to suit whatever objective you have to do and think about your task logically. Like if you need to use anchors, mines, grenades and things of the like, then you're going to want to play Defend mode, where as Nest is for things damage related. You also want to keep an eye out for or create targets with the medic, since those let you deal double damage, making the grind far less grindy. Though with that being said, it shouldn't take you more than an hour to finish a tier if you're focused on doing it.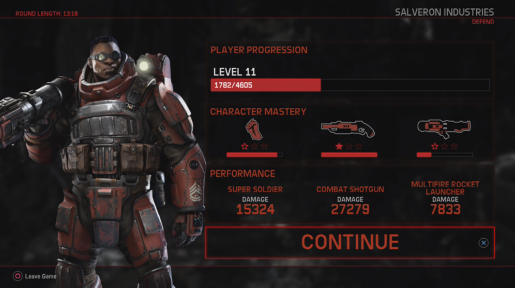 Quick leveling: Hunter
As I mentioned above, you want to figure out what you need to do and what's the best way to do it. If you need to use or get damage with things like a grenade/mine/whatever, then you're going to want to play Defend mode. This is because minions will come to you and are only interested in destroying the objective. Not only does this make it easy to plan for, you have relatively stationary targets to throw grenades or shoot at. By utilizing this method I was able to go from 25% to 100% with the toxic grenade in like six minutes.
For things that are easy to do damage with or don't have special conditions, I found that Nest mode works best. This is because you have six targets with a lot of health that you can easily unload with relatively no risk. Especially if you have the medic hit it for double damage.
Quick Leveling: Monster
Unlike the Hunter it's a lot harder to level the Monster, since there is generally a lot of risk in whatever you do. For this reason I suggest playing Rescue, as the AI will ignore you completely, plus you will have additional targets to attack. The general idea is to get to level three as quickly as possible, unlock every skill or max out whatever you want to level and then engage the enemy once you're ready or they're on the final wave.
While the above method works for most skills, you might want to consider playing Hunt to level area of effect skills. Based off how the AI is coded, once you hit rank three and are able to destroy the objective, the AI will group together near the objective making them very easy to hit in bulk. Especially since most of those rooms are fairly small and the AI wants to kill you as much as you want to kill them. Though keep in mind that I don't think damaging someone with a shield counts towards leveling skills.
Quick Leveling: Experience
In addition to leveling characters, you have your overall level to worry about. Leveling this will give you additional perks giving you an advantage over those you play with/against, such as eating faster or doing more damage. While leveling is fairly slow, there are some quick ways to make some progress.
Start by finishing both tutorials in less than six minutes. To do this, simply beat the tutorial at any speed and then repeat it again anticipating every command the game will give you. It also helps to use Goliath's charge and leap smash for a nice speed boost. You can also use the dash for the Hunter, though you should have ample time to do that tutorial.
The next thing is to work towards various awards, such as killing XYZ enemy so many times, getting buffs and so forth, as those awards give you a lot of experience for very little work.
For those serious about power leveling, you want to play Evacuation and try to dominate as quickly as possible. This mode will give you a bonus at the end of the fifth match related to the number of people you save (for Hunters) or killed (for Monsters). Even a low score like 1,000~ should net you around 3,000 experience, in addition to all the experience you'll obtain throughout the games.