As I mentioned in my review of Neptunia Re;Birth 2, I had a lot of issues figuring out where to find a number of materials needed to make the various plans in the game. Since most of them require things like the True End, unlocking a dungeon or plan I didn't even know existed, I made a quick guide covering the items I thought were most important and tried to give you as much information as possible.
How to use this guide
As I mentioned above, getting certain materials is more complex than you might think. On paper the task seems simple, like all you need for Royal Jelly is to kill Unplanned Dogoo in the dungeon changed version of Trinity Marsh, but there is a lot more to it. First you need to unlock Panan Jungle, find the Lost Ruins plan, unlock the Lost Ruins and repeat these steps just changing one dungeon for another like four times and then talk to someone during chapter two (if you take too long you need to do another cycle), followed by finally getting the materials needed to make the plan. While I would love to write a guide like this, it simply isn't feasible. With this in mind I made a far simpler guide that will give you an idea of what to do.
The guide below will tell you the enemy names, where to find them and what they drop. Some locations will have additional information in parentheses, which are critical to finding the item. So if the location says no modifier, then that means dungeon change and additional enemies need to be turned off or that specific enemy won't spawn. I tried to include as many as possible, but there is a chance I missed something. If that is the case, then try looking at that dungeon with additional enemies, dungeon change and nothing to see if the enemy appears. While the details might be off, every location should be completely accurate. Please note, you can also obtain a number of these materials from the colosseum, but I opted out of including them to make it easier on everyone.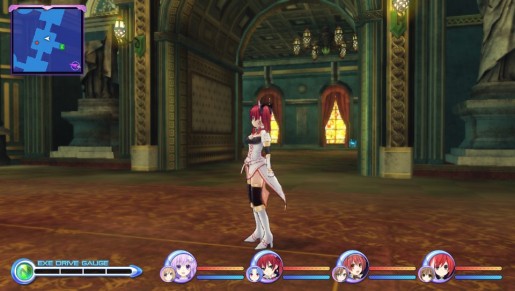 What do I do if the material I want isn't listed?
Since this game released a while back in Japan, the helpful people over there made an extremely informative wiki page with all the information you could possibly need. Simply go here for plans regarding System and Dungeon, this place has equipment and you can find costumes here. All you need to do is look at whatever the translated name is and look at this page to find it. You can also use the original text and just have it translated. This will take some trial and error, but anyone with good deductive reasoning can easily figure it out. Like "zone of the endless" is "endless zone," "under in verse" is actually " underverse" and so forth. I think the only hard one is "gow island" (ゴウアイランド ), which is "powerlevel island."
Hidden Treasure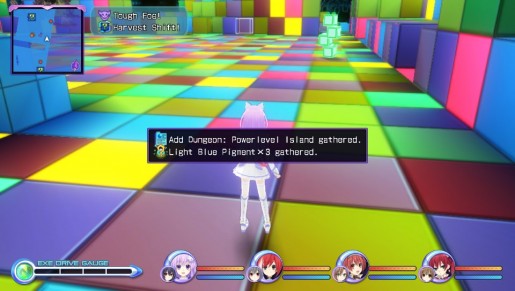 Severed Dimension – Depths – Virtual Forest – Depths dungeon change
World Labyrinth – 2nd Floor – add Powerlevel Island dungeon
Powerlevel Island – Credit Up (Verify name)
Panan Jungle – Powerlevel Island Dungeon Change, add Lost Ruin dungeon
Lost Ruin – add Hellfire Hollow dungeon
Hellfire Hollow – add Sublie Road dungeon
Sublie Road – add Trinity Marsh dungeon
Airfore's Factory – Underverse dungeon change
Lan Castle – Septent Resort dungeon change
Enemy Drops
Self-Defense System – Arfoire's Factory (No Modifier) – Exceed Damage Limit
Hero Craft – Midcompany (Add Enemies) – Item Drop Rate Up
Nihil – Virtual Forest – Depths (Dungeon Change) – EXP Up
God of Woe – Gamindustri Graveyard – Symbol Attack Gains
Tough Flame Skeleton – Underverse – Depths (Dungeon Change) – Symbol Attack On
Materials
Killachine Mk-2 – Graveyard Depths – New Magic Dampener
Cat Knight – Lan Castle – Underground – Electric Switch
1000-Year Turtle – Graveyard Depths (True End) – Ancient Shell
Saint Whale – Gapain Field – Small Whale Ball
Disc – Gamindustri Graveyard – Disc Shard
Unplanned Dogoo – Trinity Marsh (Dungeon Change) – Fancy Jelly
Nidhogg – LAN Castle – Old Dragon… Horn
Cyber Dolphin – Powerlevel Island (Dungeon Change) – Electric Fin
Carroteer – Panan Jungle – Carroteer Leaf
Malvader – Lost Ruins – Nice Antenna
Bushidama – Hellfire Hollow – Bomb Beards
Sergeant Froggy – Powerlevel Island (Dungeon Change) – Teppachi
Rigvader – Powerlevel Island (Dungeon Change) – Firm Block Nose
Yayozu Hinokami – Sublie Road – God Soul
Opportune – Hellfire Hollow – Rare Plate
Cerberus – Powerlevel Island (Dungeon Change) – Hell's Mane
Boxer Cat – Lost Ruins – Cat Gloves
Dolphin – Septent Resort- Dolphin Tail
Killmochine – Midcompany (Add Enemies)- Pachimon Circuit
Sicko Shadow – Severed Dimension (No Modifier) – $ Violin
Heavy Dragon – ??? – Magical Fragment
Mega Turtle – Powerlevel Island – Iron Shell
Rival Craft – Gamindustri Graveyard – Alloy Plate
Numb Dogoo – Underverse (Dungeon Change) – Numb Jelly
Deus Ex Machina – Arfoire's Factory – 6-fold Magic Damp
Forest Crab – Panan Jungle – Crab Shell
King Cardbird – Icicle Pathway -Bird's Kingly Crown
Monkey Balancer – Icicle Pathway – Black Die
Black Spider – World Labyrinth – 2nd Floor (Dungeon Change) – Strong Thread
Killachine – World Labyrinth (Story) Magic Dampener
Lionvader – World Labyrinth – 2nd Floor – Lion's Mane
Dominance Machine – Sublie Road – Magic Shell