In Neptunia Re;Birth 2 there are a number of different endings you can unlock with various rewards. Most of these are just trophies, although certain endings have additional fights, dungeons, weapons, plans, materials and content to experience. Since each of these endings require you to meet a certain condition, we made a quick guide to help you get them all.
Manipulating Shares
Before we talk about what you need to do, it's important to understand how to do it and for that you need to understand the share system. For the most part, the system is pretty straightforward. You accept quests from the guild, most of these are killing a specific enemy or finding a material and then when you turn them in you'll receive a reward and the shares of one place will increase, as the other decreases. This can be a long tedious process, but it can be done fairly quickly if you know what you're doing.
The first thing you need to do is drop Arfoire to zero percent. There are a lot of ways to do this, but I suggest accepting every quest, turning in any quest that you just so happen to lower Arfoire's shares and then finishing it off by repeating the "Avenge my Cousin!" quest. This one requires you to kill one Fenrisulfr, which is one of the weakest powerful enemies in the game and can be found in the Endless Zone right next to the Laststation town. The enemy itself is a giant blue wolf that you should be able to quickly kill to complete the quest. This can be repeated an unlimited number of times and will give Planeptune 4% each time you turn in the quest.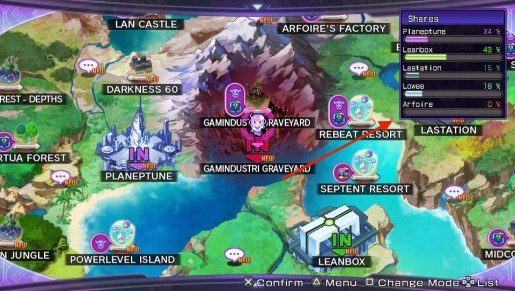 Once you get Arfoire to zero, you're ready to boost other areas. While you can do this with quests, I strongly suggest using the colosseum, which is something you need to unlock via the plan system. You should get the plan for this in chapter five from a chirper and you'll need an Old Dragon… Horn to unlock it. This item drops from a dragon called Nidhogg in the Lan Castle dungeon.
After you've unlocked the colosseum, you'll see a new location called Gameindustri Graveyard (different from the dungeon) on the map. This place will have some people to talk to, in addition to the colosseum mode. Here you'll find a number of fights at various difficulties that work the same way as quests. Keep doing this until you get the shares to whatever percent you need.
Increasing Lily Rank
The other thing you need to do is increase the lily rank of Nepgear and various characters. This can be done one of two different ways. The first is watching specific events that will end with their lily rank increasing for Nepgear. The other way is to partner whatever character you want to level with Nepgear and complete various fights.
This can be a long and tedious process, so I strongly suggest equipping an item that increases the lily experience you obtain after a battle. To do that you need to go to a town, select disc dev and then find a game disc that will let you use a red idea chip. After this, select the red idea chip and look for the ones that increase lily rank. These ones are called Orthodox, Jargon, Nature, Near Future and Harem. Ideally you'll have a disc that will let you use harem, but any of these items are better than nothing. Once you've made the item, simply equip it to Nepgear and farm some monsters.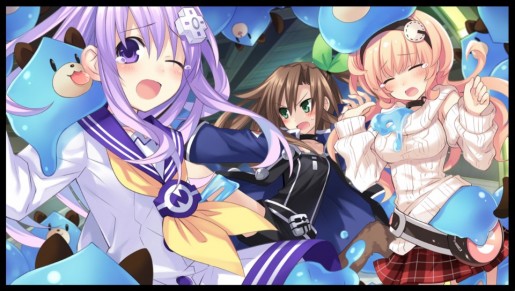 Unlocking Characters 
In addition to getting your shares to specific points and increasing your lily rank, you also need to unlock most of the characters. The keyword being most, since you don't need to unlock Chika, Mina, Kei or Histoire for any of the endings. With that being said, this is how you unlock every other character.
Ignoring story related characters that you should unlock by default, you can start unlocking characters in chapter four. However, I strongly suggest you wait until chapter five because it's much faster and easier to unlock the makers and CPUs at the same time. Anyway, all you need to do is increase the shares of a specific location to 40% to get the maker (MarvelousAQL, Broccoli, Tekken, CyberConnect2) and 50% to get the CPU (Vert, Blanc, Noire) and then view a brief event at that location. Sadly this does mean you need to get each location to 50%+ in a single run, but it isn't too bad if you unlock the character, save, increase the shares to 70%, beat the game, get that locations ending and then load your save with them at 50%.
Ending Guide
Normal Ending
Fail to meet the conditions of another ending.
Planeptune Ending
Defeat the final boss with Planeptune's shares at 70% or better.
Nepgear's lily rank with Neptune is at 5 or better.
Lastation Ending
Defeat the final boss with Lastation's shares at 70% or better.
Nepgear's lily rank with Noire and Uni is at 5 or better.
Lowee Ending
Defeat the final boss with Lowee's shares at 70% or better.
Nepgear's lily rank with Blanc, Ram and Rom is at 5 or better.
Leanbox Ending
Defeat the final boss with Leanbox's shares at 70% or better.
Nepgear's lily rank with Vert is at 5 or better.
Human Ending
Did not meet the conditions of one of the endings listed above.
Recruited Compa, Red, 5bp., MarveleousAQL, CyberConnect2, Cave, Falcom, Broccoli Tekken, and If.
Nepgear's lily rank with Compa, Red, 5bp., MarveleousAQL, CyberConnect2, Cave, Falcom, Broccoli Tekken, and If is at 5 or better.
True End
Complete the following before the end of chapter 6:
Share rating of Planeptune, Lastation, Leanbox, and Lowee are at 15% or better.
Recruit Blanc, Vert and Noire.
Recruited Compa, Red, 5bp., MarveleousAQL, CyberConnect2, Cave, Falcom, Broccoli Tekken, and If.
Nepgear's lily rank is at 4 or better with everyone listed above.
Conquest Ending
Watch all the "Holy Sword" events by the end of chapter 3. I hear there are three of them, but I only noticed two of them and they both appeared when you unlock Lowee in chapter 2. They're listed as an event in town and I believe Evil Mama and Slayer are the characters that give it. If you don't see these events come the end of chapter 2, try raising your shares, though I got both and my shares were at like 4%.
Before defeating Magic the Hard for the second time in chapter 5, you must have Planeptune's shares at 55% or better and have recruited Noire, Blanc and Vert. If you're worried about accidentally triggering this fight early, it appears as an event in Planeptune after defeating CFW Trick in Lan Castle.
Finally, fail to complete the conditions for the Holy Sword ending listed below.
Holy Sword Ending
For the Holy Sword ending you need to complete everything listed above and get Nepgear's lily rank to 8 or better with Neptune, Uni, Ram, Rom, Blanc, Noire and Vert.
Please note, I strongly suggest you get these characters to rank 8 as quickly as possible. This is because shortly after starting the conquest route there is an event that causes everyone in the party to quit, making it impossible to increase their lily rank and this can/will result in you having to either use an older save or complete the game again to unlock this ending.