Neptunia Re;Birth is everything you could have asked for in a remake. Instead of porting the critically unsuccessful and somewhat disliked original games, they instead updated the original to include various improvements from the sequels, in addition to fixing a number of the original's faults. While there was a lot to improve in the original, the same can't be said for Neptunia Mk2. With a number of smaller improvements, new characters, slightly different story and a new ending, is Neptunia Re;Birth 2 a must for fans or is it another underwhelming Vita port?
Neptunia Re;Birth 2 takes place after the events of Neptunia Re;Birth and starts with the goddesses being captured. Neptune's sister Nepgear is able to escape and teams up with Compa and Iffy from the first game to rescue her sister and the other goddesses, while also trying to prevent an evil organization from resurrecting Arfoire. Sure it isn't the most interesting story ever, but fans of the Neptunia series or games like it will probably enjoy the naughty scenes and silly dialog.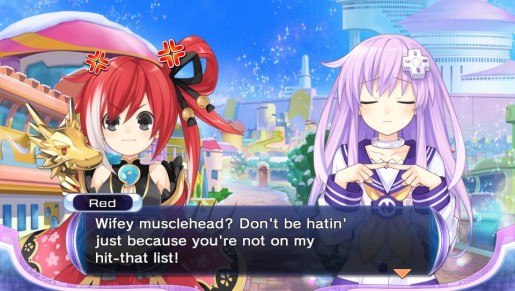 The story also has a number of changes due to characters like NISA being removed and other characters like Red being added. This means certain scenes play out differently, plus there are a number of new events related to these characters to watch and enjoy. Unfortunately the new characters/scenes don't make a monumental different, although they're different enough to make the scenes feel fresh.
Much like Neptunia Re;Birth, Re;Birth 2 features an improved combat system based off what we saw in Neptunia Victory. If you've never played a Neptunia game, the combat system is pretty straightforward. You can move your character anywhere within a circle and attack anything that lines up with your area of attack. This allows for some interesting tactics, since it's possible to hit a number of enemies with a single attack if lined up correctly. There are also healing potions, stat boosting items, magical attacks, super attacks and other standard RPG fare. The only downside is that the combat system suffers from the same problems Re;Birth did.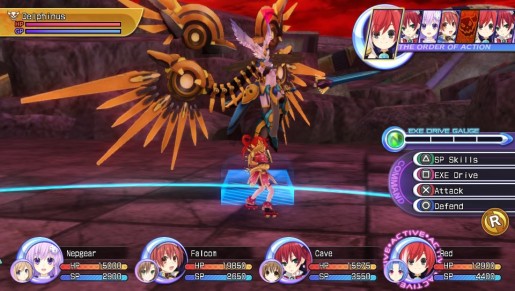 While Neptunia is not known for having the deepest combat system ever, it was an absolute joke in Re;Birth. The issue was if you picked the best rush attack and maximized your exe gain, then you could dominate the game by mindlessly pushing triangle and using your exe attacks to defeat more powerful enemies. Not only does this tactic work in Re;Birth 2, it can be used to successfully defeat almost every challenge in the game besides the top tier bosses and even then all you need to do is spend a turn buffing your characters and then it will work. Naturally it's disheartening to see such a simple tactic not only working in two titles the exact same way, but also overshadowing all the other tools at your disposal.
Another big problem is the direction Neptunia Re;Birth 2 took with the Plan system. In Re;Birth the plan system offered a new way to get gear, in addition to offering new enemies to kill, decreasing/increasing the difficulty and changes to make the game easier. While the plan system still does all these things, unlocking everything is a lot more complex than you might think.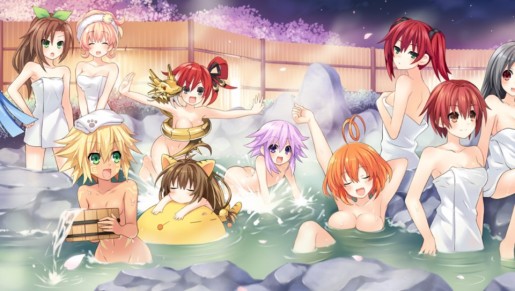 More often than not, most of the items I needed required multiple steps to obtain or being at a specific part of the games story. For instance, a lot of post game plans required items that you can only obtain if you fulfill the conditions for the true end. Some of these items were also used for plans you can only get if you've unlocked other plans and beat the game once, so it wasn't uncommon for me to realize I needed to beat the game again, unlock the true end and obtain these items if I wanted to make the plan. These are just some of the examples, but don't be surprised if you need to find a hidden plan, make that and then make four or five more plans before you can finally get the item needed for the plan you were trying to complete or needing an item you either missed or don't have enough of because you were unaware you were going to need it. Plus the plan system makes the easy stuff easier and does nothing but make the tedious share (doing missions/events for one place will increase their shares by lowering the shares of another place. This stuff is also related to the various endings and unlocking specific events/items) system even more tedious.
The final change and arguably the biggest addition to Neptunia Re;Birth 2 is the newly added Stella's Dungeon mode. This mode basically lets you farm materials while you're doing other things by allowing you to send Stella to various locations to explore. While this mode is paper-thin and requires a bit of luck to be successful, it ultimately serves no real purpose and is a little buggy.
At first Stella's Dungeon sounds like a wonderful mode that you can use to obtain annoying materials while you're doing other things. The only problem is that the material collection rate is quite poor and the dungeons can take quite a while to complete. Like even the shorter ones are a couple of hours and give me fewer resources than I could get running around the dungeon for up to twenty minutes. To make matters worse, Stella's Dungeon is designed in a way where if you change the time of your clock the dungeon itself will reset to prevent abuse/cheating. The only problem is that this would constantly happen to me regardless of whether I touched my Vita or not and one of the biggest problems I faced with the longer 10+ hour long dungeons wasn't figuring out when I could beat them, but having the game go 10+ hours without screwing up. Thankfully this was addressed in a patch released in Japan, so we should get it sometime in the future, but still frustrating to deal with in the mean time.
In a lot of ways Neptunia Re;Birth 2 has some good ideas, but executes them poorly. It would have been nice to see the plan system address the tedious share system instead of just making it more tedious or streamlining the process. It's also a shame that Stella's Dungeon is more or less pointless and that the combat system feels like a cut and paste of Re;Birth, but at least some of the new characters are nice and offer something new to do. In the end, unless you love this series or missed out on the first one, there really isn't much to see here.
Hyperdimension Neptunia Re;Birth 2: Sisters Generation Review

,