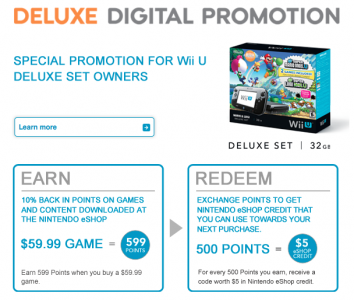 Today (Dec 31, 2014) is the last day to receive points towards the Wii U's Deluxe Digital Promotion, so if you were thinking about getting anything from the eShop, you might want to do it today.
For those of you who forgot about the program, it gave deluxe Wii U owners 10% back on purchases made off the eShop or via select codes and upon hitting 500 points/spending $50 you would receive $5 in eShop credit.
What made the program great was the fact it stacked with Club Nintendo and other Nintendo promotions. So if you got the Legend of Zelda Wind Waker system, scored the free digital game with Mario Kart 8, received a game as your Elite Status reward via Club Nintendo or bought any game via Club Nintendo, you should have received points.

To check how many you have in the bank, simply go here and enter your account information. You should see a banner like the one pictured above telling you how many points you need to receive another code. So if I need 411, then I need to spend about $41.10 to get another voucher. Just to reiterate, games off Club Nintendo work towards the total, so if you're like $7~ short, you might want to just pick up a random (you will get a 1:1 value with whatever it's listed in the store as being) game for the voucher. Finally click "get activation code" to see if you've earned any vouchers. These vouchers will remain valid until June 2015, so you don't need to redeem them if you don't want to.