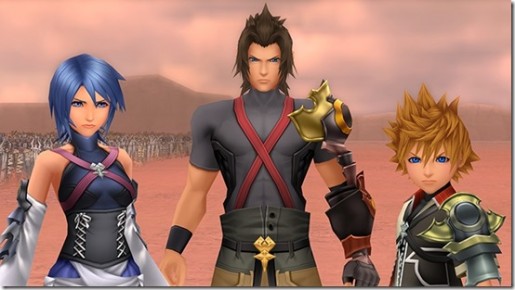 Gameplay-wise,s it is quite similar although there are some new things introduced here. To make battling enemies more interesting and intense, there is now a Command deck where you can edit the list of attacks that Terra, Ventus or Aqua can use. You can get the commands from shops or from enemies that drop it. As you use these commands, your Focus gauge will fill up (this replaces the Magic Points from the original game), and once full, you can press the R1 button to unleash a powerful combo.
In addition to the Focus Gauge and Command Deck, another notable new feature in Birth By Sleep is the D-Link. As there are three playable characters in the game, you will be able to use any of the playable character's powers to influence the attacks that the current character is using. Let's say you are using Ventus in battle and you decided to use Aqua. To do that, simply press the Right D-Pad and choose Aqua. This will change the list of attacks that you can use in the Command Deck. Unlike Kingdom Hearts 2 where it lacks mini-games, Birth By Sleep offers them in variety of ways. When you reach Disney Town, a bunch of mini-games will open up. One feature that is omitted from the original game is multiplayer mode.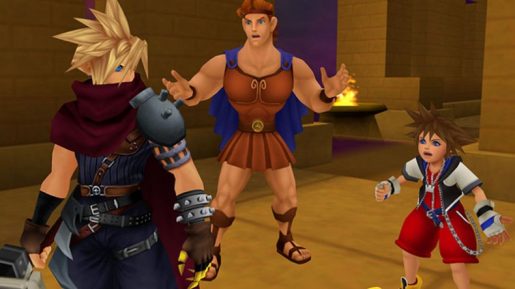 One of the things that I dislike in the HD remixes of all Kingdom Hearts are the cinematic only scenes similar to Kingdom Hearts 358/2 Days. In re:Coded included in HD 2.5 Remix, it's quite the same where you can just watch the cinematic cutscenes of the game. Fans who have never played the DS version of re:Coded will just have to watch the over two-hours cutscenes. It's quite tedious watching all two hours straight, but it does its purpose well to get fans up-to-date to the game's story.
Overall, Kingdom Hearts 2.5 HD Remix has two of the best Kingdom Hearts game in the series that fans need to play in preparation for the upcoming release of Kingdom Hearts 3. Since it's been over five years since the original games were released, it wouldn't hurt for fans to re-play the two games. Sure, it's quite disappointing that re:Coded only has cinematic scenes but the two games included in the collection is worth every penny. Who wouldn't want to play the best two Kingdom Hearts game in glorious HD?
[Editor's Note: Kingdom Hearts 2.5 HD Remix was reviewed on the PlayStation 3 platform. Review code was provided to us by the publisher.]
Kingdom Hearts 2.5 HD Remix Review

,