In addition to the two DLC characters Leo and Elphelt, there is a third character, Sin Kiske, that you can unlock in Guilty Gear Xrd -SIGN-. This can be done in one of two different ways. The first is buying the early unlock DLC off the PlayStation Store for $2.50. If that's not your cup of tea, you can buy him for 200,000W$ in the gallery. While 200,000W$ seems like a lot, especially since things like arcade only give a couple of thousand per run through, it's actually pretty easy if you know what you're doing.
The first thing you want to do is complete the arcade mode with every character. If you want to speed up the process, you can set it to one match with a 30 second time limit on the lowest setting. This will make the matches much faster, although you'll earn more W$ if you increase the difficulty. However, for this method you can hit the desired amount by playing on the lowest setting.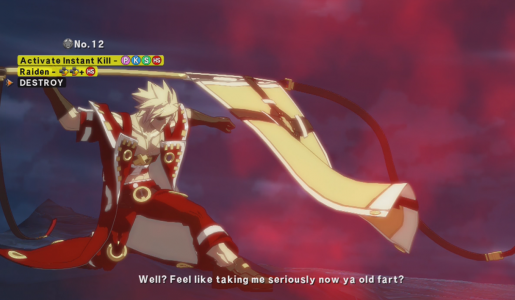 For the most part, arcade mode shouldn't give you any problems. If you do run into any problems, there are two tricks you can try. The first is to waste time by launching an enemy (R1), jump and then do a combo. Doesn't matter if the combo is good or bad, even pushing square a lot if perfectly alright, you just want to run out the clock. You can waste five or so seconds doing this, so it's really helpful against difficult enemies like boss version Ramlethal. The other method is to use your instant kill move to win the match. This can be performed by pushing X, square, triangle and circle at the same time or you can just assign it to a button. After this your character will glow red and you'll start to take damage once you run out of special. Finish this by performing the move, which is down, down right, right (236) two times and then circle. If the inputs are confusing, you can see an image of them above.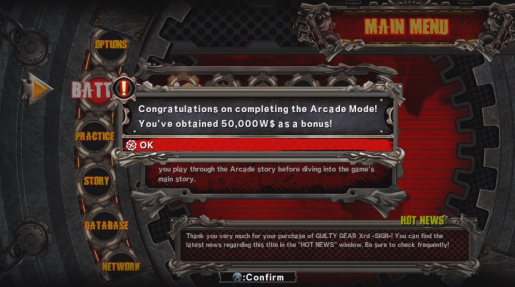 Once you've completed arcade mode with everyone, you'll receive a 50,000W$ bonus and the Guilty Until Proven Innocent trophy. Please note, you don't need to do this with the DLC characters and doing so might result in the trophy / cash unlocking early.
At this point you should have about 100,000W$~ and you're ready to start the story. Unlike BlazBlue, Guilty Gear Xrd -SIGN-'s story is one really long cutscene with an occasional checkpoint prompting you to either continue or quit. This means you can skip all of the story and finish in around 20 minutes or you can spend the next couple of hours listening to the story. If you choose to skip it you can experience it later, but you will see a number of spoilers that might ruin some things for you.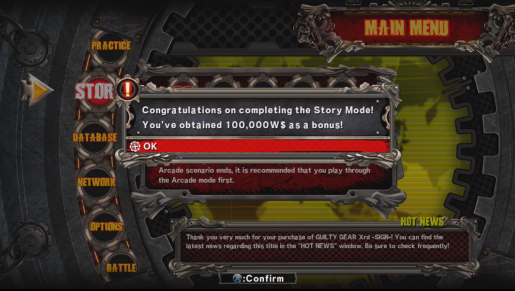 Anyway, after this you'll be awarded with 100,000W$ and should be able to afford Sin Kiske. If for some reason you're a little short, you can do a couple challenges in challenge mode. They give you 300W$ per challenge and some of the starting ones are pretty easy. Once you have the cash, simply go database > gallery > character and purchase Sin Kiske.
Finally for those who want to see Sin Kiske in action, you can find a brief video showing off some of his moves below.