When Nintendo announced Captain Toad: Treasure Tracker it was quite a surprising move. What was originally an unusual, minigame in Super Mario 3D World, would now be expanded into a full game. While the idea certainly sounded interesting, especially since the minigame was a welcomed change of pace in Super Mario 3D World, it was hard to say if the idea had enough mileage to justify a full game. With limited controls, is Captain Toad: Treasure Tracker worth your time or was it better left as a minigame in future Nintendo titles?
Captain Toad: Treasure Tracker starts with Toad and Toadette going for a super star, but as Toadette grabs it, they're taken away by a bird called Wingo and Toad has to go save them. Like a lot of Mario games, the story is little more than a jumping off point to explain or at least justify what you're doing and is a very small part of Captain Toad: Treasure Tracker. Once you finish the first episode and save Toadette, the story repeats itself, only this time Toad is taken and Toadette has to save him, with the final episode having the two working together. Sure it isn't the best story ever, but it's certainly better than nothing.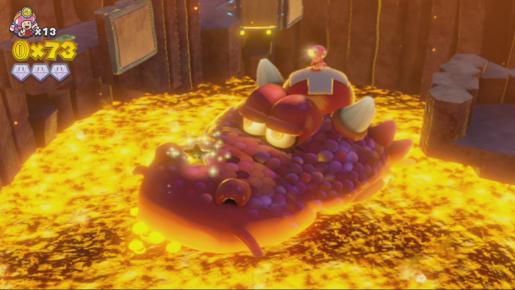 What makes Captain Toad: Treasure Trackerstand out is the gameplay. Since Toad can't jump, due to the weight of his backpack, you need to explore the stages and find your way to the exit. To do this, you need to look at the level from different sides and angles, which will also reveal additional paths and hidden rooms. Similar to newer Mario games, every story stage has three diamonds to collect, in addition to some sort of challenge.
Diamonds are usually easy to find and rarely require more effort than going down an obscured hallway or looking at the world from a different angle. The same can't be said for the challenges. What's a great thing about challenges is that several of them require you to play a specific way. These include things like getting a certain amount of coins, defeating every enemy, finding a hidden item, finishing the stage without taking damage and completing the stage without alerting a Shy Guy. Even if you've completed the stage and found the diamonds, you still might have an additional task to complete.
Beyond this, Captain Toad: Treasure Tracker tries to have a lot of fun with the basic concept. Instead of limiting the game to puzzles, there are a number of stages devoted to the treasure hunter aspect. So instead of exploring a map, you instead ride a mine cart and have to hit various targets with turnips. There are also boss stages where you need to use the level to your advantage, bonus stages that are all about collecting coins and even a couple of stages where you need to avoid a mummy called Mummy-Me. These stages are a welcomed change of pace and prevent the game from feeling stale or getting boring.
Besides having varied mechanics, the levels themselves are quite diverse. While earlier stages are your standard Mario fare, colorful worlds with the occasional Shy Guy or Goomba that we've come to expect, later stages have a lot more fun with the concept. There are a couple of stages that revolve around a haunted mansion, Retro Ramp-Up is a tribute to the Donkey Kong arcade game, Razzle-Dazzle Slider is basically a Mario themed pachinko machine, and even a few where you run around a train.
As great as all this is, Captain Toad: Treasure Tracker still has some shortcomings. For starters, the game is quite easy and straightforward once you get the hang of it. Clearly it was designed for younger people, but the accessibility hurts, because it generally lacks any challenge. With the exception of like five stages and some of the post-game worlds, Captain Toad: Treasure Tracker is very much so a one-and-done game.
Rarely did I fail to find all three diamonds and most of the times I did fail, they were either in a place I simply didn't notice the first time, such as behind the mine cart on the first mine cart stage or I didn't want to restart the level to get. In the whole game I think there was only one diamond that stumped me, although I have a general idea of how to get it. The same goes for the levels. More often than not getting to the end was the least of my concerns and only poised a problem on stages I didn't realize were timed or had a lot of enemies. While this accessibility is great for some, it diminishes the replay value only leaving the challenges and finding whatever diamonds you missed to unlock the post game levels.
If this isn't a problem for you, then you'll probably enjoy all that Captain Toad: Treasure Tracker has to offer. However, those looking for a more challenging experience or complex puzzles that require a lot of problem solving or trial and error, this game probably isn't for you. Hopefully some of the upcoming content will change that, like Nintendo has already confirmed that Captain Toad: Treasure Tracker will support amiibo in some way, though their exact function has not been revealed. In the end, Captain Toad: Treasure Tracker is a great game if you just want to relax or for younger children, but those looking for challenging experience will probably leave disappointed.
Captain Toad: Treasure Tracker Review

,