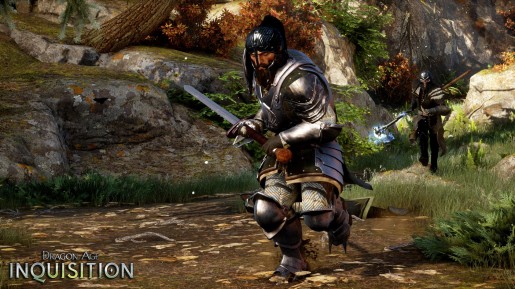 Similar to past Dragon Age games, certain characters in Dragon Age Inquisition may engage in a romantic relationships with companions, advisors or other characters player will meet in the world.
In Inquisition, there a total of eight characters that players can have romance with. Two of these romances are restricted by race, while the other six are freely available.
To have your character have sex with others in the game, you must increase their approval ratings. Unlike in past Dragon Age games where you have to give them gifts in order to raise their approval ratings with your character, you must now engage them in a conversation. In addition, assisting your companions in doing their personal quests will also increase their Approval ratings. Anger them in conversation and their approval ratings with you will lower.
Below are the list of characters:
Cassandra Pentaghast
– Your Character must be a Male
Cassandra is one of those companions you will have a hard time increasing their approval ratings. When talking to her, it's important that you embrace your role as the Chosen of the Andraste and say favorable things about the Chantry while prioritizing the Inquisition over personal fame and power. If you don't want her approval rating to drop, avoid making harsh comments about the Maker or the Chantry.
Doing her "Unfinished Business" quest will increase her approval rating.
Solas
– Your Character must be a Female Elf
When engaging in a conversation with Solas, make sure that you are thoughtful and inclined to see shades of gray in the World. Ask as many questions as possible when talking to him as that will give points in his approval rating. Make sure that you approach him in a thoughtful manner in most situations.
Since Solas is an Elf, giving him an Elven artifact will somewhat raise his approval rating. If you bring him in your party, he will be able to sense if there's an artifact nearby.
Sera
– Your Character must be a Male
Sera is one of those characters who loves helping people. When you are in a conversation with her, make sure that your choices always favor those who are in need. Whenever she talks about the nobles, make sure that you give a bad response as she thinks they are abusive. When you have her in your party, you will notice that she has this happy-go-lucky nature. If she asks you to prank someone, do it. She also hates being with other Elves.
Iron Bull
– Your Character must be a Male or a Female
Iron Bull loves fighting tough enemies and having a good fight. Among the eight characters, he is fairly easy to win over, as he is inclined to support you and the Inquisition. You can increase his approval rating by fighting Venatori forces and he will be incredibly grateful if you kill a dragon with him in the party.
Black Wall
– Your Character must be a Male or a Female
If you love helping people, Blackwall will love you. In the game, he believes the Inquisition has a responsibility to make the world a better place. He also believes that people should be given a second chance, even if they have done terrible things in the past. If you are ruthless, he will most likely disapprove, thus lowering his approval rating.
To be continued…