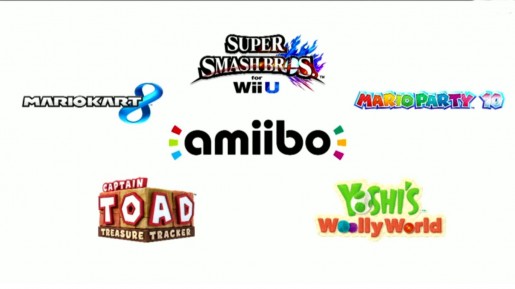 Earlier this week Super Smash Brothers for Wii U released and with it was the highly anticipated Amiibo figures. With a good portion of Nintendo favorites available at launch, support for the foreseeable future and various other functions, is Amiibo worth investing in or is it an interesting idea that never gets off the ground?
At first glance you can see a lot of effort went into the packaging. It's big, colorful and has a Super Smash Bros. motif so you immediately associate the two products. On the back it also explains what it does in Super Smash Bros.for Wii U with a link to the official page for more information.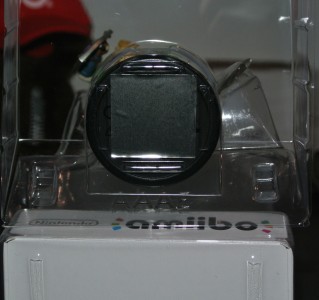 Upon opening your Amiibo you'll find the figure and this nifty reflective sticker under the base. As you might have guessed the sticker is there to prevent you from using the figure while it's still sealed in the packaging, which is something I can confirm works if you simply remove the sticker. Naturally this doesn't matter if you plan on opening the figure and will only bother collector's who would like to use the figure and keep it sealed.
The figure itself is decent and made out of the same soft plastic the Pokemon Rumble U NFC figures were made of. Since the figures are made out of soft plastic don't be surprised if things get a little warped. Like you can see Link's master sword is starting to curve in the pictures above. While this might not be appealing from a display standpoint, Nintendo most likely went this route to prevent them from breaking during transport.
Upon closer inspection you can see it's a decent quality figure and nowhere near as bad as some comparison shots might have you believe.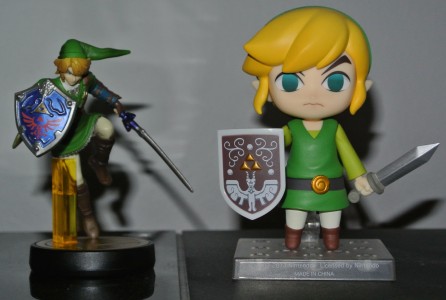 Odds are you won't notice most of the flaws unless you display your Amiibo next to higher quality figures. You can get an idea of what I am talking about in the image above.
Anyway, now that we've taken a look at the actual figure, lets talk about what you can do with your Amiibo. For those of you who have Mario Kart 8, you'll receive costumes based off your Amiibo's appearance for your Mii. In Hyrule Warriors you can unlock the Spinner from Twilight Princess with Link, once a day you can get a three star or better weapon with Zelda and everyone else gives you one three star or lower item, rupee bonus or crafting materials bonus per day. Finally we have Super Smash Bros. for Wii U, which lets you make a unique AI character.
The AI character is based off the figure in question and has a number of settings you can mess with. These include palette, stats, special abilities and moves. Most of these things require items you find while playing Super Smash Bros. for Wii U, so don't be surprised if you're constantly revising your build. You can also level your AI by using them in combat (allowing more items to be consumed and more), plus they get an experience boost if you use it on someone else's Wii U.
By using this you can make a powerful ally or a fearsome foe that can really impact the game. The only limit is your skill and how much effort you put forth into making the ultimate character.
While the AI functions in Super Smash Bros. are interesting, it's hard to say what future titles will do with the figures. Hopefully we will see more things like Super Smash Bros. for Wii U and less things like Hyrule Warriors, but only time will tell. For those interested in the figures, I find them hard to suggest unless you really want a figure of a specific character or plan on using it a lot in Super Smash Bros.