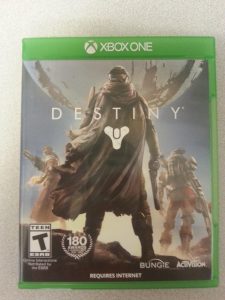 Bungie's next title, Destiny, will be launching next week across both Sony and Microsoft platforms, but only if you have high-speed internet.
Over a year and a half ago, both Bungie's Pete Parsons and Activision CEO Eric Hirshberg had previously stated that an internet connection would be required to play Destiny. This means that regardless of platform, there would be no option to play the game entirely offline. There's always an option to play through Destiny by yourself, but Hirshberg had this to say about the multiplayer component when speaking to Shacknews back in February 2013.
[Destiny is online because] that's the only way to realize the vision of the game. The vision of the game is a shared world first person shooter. In order to make the world shared, you need to be connected.
Destiny has a warning label featured prominently on the front of both the Xbox 360 and Xbox One releases of the game, although the internet requirement notification is hidden on the back of the PS3/PS4 versions at the top of the fine print. Credits for the Destiny packshot go to an anonymous user on imgur.
Destiny launches in North America on September 9th on both Playstation 3 and 4 as well as Xbox 360 and Xbox One. Be sure to check back next week for our full review!
[UPDATE: While an internet connection is required to play Destiny, Playstation Plus is only mandatory for the cooperative/competitive play on PS4 (Strikes, PVP, and Raids). Xbox Live Gold is required for any mode on both Xbox 360 and Xbox One.]