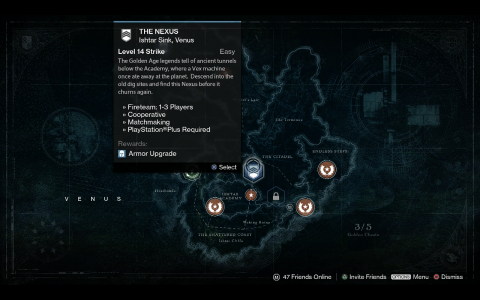 After fighting Phogoth you're probably not looking forward to your next strike, but good news, Venus has fairly easy strikes. In fact, The Nexus is probably the easiest strike in the game if you do it right, the one problem is, most people don't. A lot of this boils down to placement, which is something you'll learn here.
GENERAL TIPS
Before going into any strike you need to know your enemy. This stuff becomes more important as you do the harder challenges, but even at level 28 you can die to a level 10 enemy under the right conditions, so it's good to start now. One of the simplest things to keep track of and master is how to easily break a shield. The general rule of thumb is that Fallen use arc, Hive use fire, Vex are Void and the Cabal are generally fire too. This can change at times, like the Moon strike with the epic modifier uses Hive enemies with arc shields, but for the most part that's the general idea. Another key element people seem to fail at, is understanding how to exploit the AIs tricks. For instance, if you shoot a hobgoblin, he will typically shield after one heavy hit or a few small hits. Shooting him while he is orange will regenerate his life, so simply wait him out. Another thing is that some enemies don't have a weak point, where as others have it elsewhere. Try to memorize these subtle differences to achieve the best results. The final basic tip for enemies is to note tricks that reduce their difficulty. For instance, shooting the head off a minotaur or one of the variants will permanently break his shield. It will also make him go berserk, but this might be a fine trade off to take him down faster.
In addition to knowing your enemies, make sure to play tactfully. One of the biggest mistakes people make, especially on the moon, is that they focus on the wrong thing. Your focus should go from things that are an immediate threat, such as melee based enemies or snipers, to things you can kill quickly and then finally the boss. Let me reiterate, unless the boss is about to die, it should always be the last thing you focus on. More groups fail to random mobs getting the best of them, not the actual boss. Another thing people typically screw up, at least on lower difficulties, is abusing the respawn system. If you can't defeat your enemies or save an ally, it might be better to simply hide or run out the clock so allies can spawn. This is disabled on most higher settings, so don't become too reliant on this trick. The final general tip is paying attention to which areas are safer than others. A lot of people don't think about where they're standing, which results in a lot of people getting blindsided by enemy spawns or simply fighting the boss in a more difficult position than need be. I will provide a few tips as to where to stand, but for the most part it's going to depend on the person. Anyway, lets move onto the strike in question.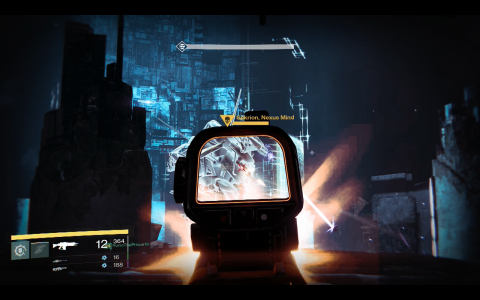 Sekrion, Nexus Mind
Similar to most bosses, Sekrion is all about placement and for him you want to be to the left or right of where you drop down. Personally speaking, I think the right area is better, especially since if you and Sekrion are positioned just right he will never hit you, but as long as you're not in either of the middle areas you're fine.
The issue with the middle is thats where enemies spawn and nine times out of 10 people die and cause problems by being there. As for Sekrion himself, he is little more than a large hydra and nothing special. Just wait for his shield to pass and hit him whenever possible. Also keep in mind that you can hit him a little above or below the shield if you really want to finish him off.
VIDEO GUIDE
Finally, if you would like additional information or just see the strike in action, you can find a video of it below. There you can see these tactics in action and recreate them if you're having problems.