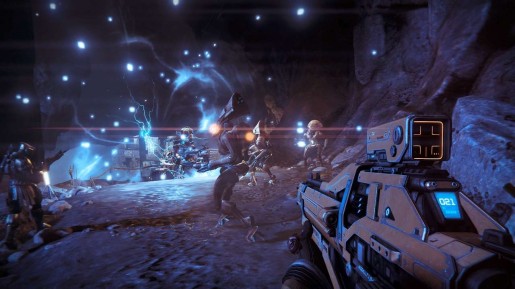 By now you should have hit level 20 and got the message that you need "light" to hit level 21 or above. While this starts as a fairly simple task, you'll quickly learn that there is a lot more than meets the eye and everything past level 25 is intended to be the "final grind" to obtain your perfect guardian, but before we look at level 25, lets talk about getting to level 25.
Getting to Level 25
Before you start worrying about stats and details, you need to hit level 25. This is accomplished by equipping armor with the light attribute, which can be found on rare equipment after hitting level 20. Like most things in this game, this is going to boil down to luck, but Vanguard strikes will always give you a reward and the higher the challenge, the better the reward armor will be. The general idea is to play the level 18 or 20 strike, hit 21 or 22 so you can do the 22 strikes and so forth. You can also obtain this via engrams randomly or crucible, but the Vanguard strikes have the best chance of helping you out.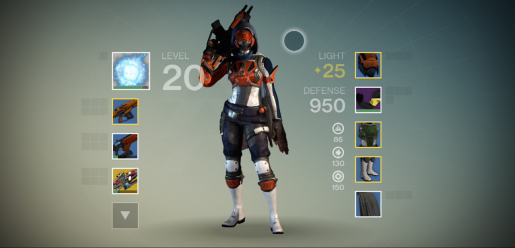 Because of the way the game works, you need about 65 light to hit level 25, which means you need the best or close to the best possible rare armor in the game and one legendary. These are the level 20 armors, which should have +13 or 14 light. Anything less is not top tier, which means you'll have to keep looking for better gear. So why is 13+ light so important when that would only give you 52 total light? Well, as the defense of the armor goes up, so does the light it gives. The general rule of thumb is that legendary and exotic gear give two light per increase in defense, where as rare only gives one with chest giving two I believe.
Leveling Past 25
Once you hit level 25 you move past the post game and enter into the end game territory. At this point the only way to increase your level is by getting legendary gear and some sort of exotic. Like I mentioned before, this is largely luck based as there is a chance a rare engram will give a legendary item (I've done 100+ and yet to see it happen) and even legendary/exotic engrams are known to fail more than they succeed. However, this is where your marks come into play.
If you've been doing Vanguard strikes or crucible, then you should have earned a number of marks. You can earn up to 100 a week and legendary gear costs 65 for the gauntlet, chest and leg armor, where as the helmet will run you 120. As you should already be aware, you can also buy weapons for 150 and other things, so keep that in mind before using your marks. Anyway, to buy these items you need reputation, which is obtained by doing bounties, Vanguard strikes, crucible and patrol missions. If you're looking to get this over and done with, selecting one of the groups like Dead Orbit is much quicker than leveling the base two, because it combines all experience into one group. As far as exotics go, there is a unique shopkeeper on the weekends who sells one piece of exotic armor for each class for 13 strange coins a piece, a weapon for a little more and one kind of engram for some motes of light. This is the simplest and quickest way to get exotic gear, though it won't always result in the right kind of gear.
The big thing you need to pay attention to is not who or what the armor looks like, but what it does. For the most part, the mark system exists to make up for the games random nature. Like if you get a chest piece that gives boosts for a gun you dislike, you can look around and find one that is more ideal. The same goes for exotic items, though they have a lot of unique elements that are meant to drastically improve your class. Before worrying about anything else, you want to make sure you get each legendary item and quickly level them up.
Leveling Legendary and Exotic Gear
Since Destiny takes a lot from MMOs, you can't simply level legendary/exotic gear with glimmer and your dismantled class material. For these items you need to obtain materials found on each world, which include Spinmetal (Earth), Helium Filaments (Moon), Spirit Bloom (Venus) and finally Relic Iron (Mars), by either finding them on the map or standard chests. In addition to that, you also need to obtain Ascendant Energy (weapon) and Ascendant Shards (armor). These are obtained by doing community events, from the post master after competing the first community event of a day, raids (according to the item), crucible (extremely rare), daily heroic at higher difficulties (only one payout a day), dismantling legendary gear and rare or better engrams. If you're having difficulty with any of these things, you can see some pictures of each below.
For a full set of legendary with a piece of exotic gear, you're going to need 80 of a given material per item, 200 of your classes armor dismantle material, 72 Ascendant Shards and a lot of glimmer. Sadly there aren't many ways to speed up the process, but according to the cards, the material collection rate can be increased on some level by getting kills on a specific map and you can stand around waiting for community events too. As for the class materials, you can speed this up by buying green or blue items, equipping gear you plan on destroying before turning in the bounty to level it and then spend the glimmer to increase the payout or simply hoard the stuff until you hit this point.
So What's The Best Build?
At this point you've seen me explain the system to you and given you an idea of how it works or at least progress through it, but I haven't really explained which path you should go down. There is an important reason for this and it's basically that it really doesn't matter beyond preference. All the legendary gear gives the same defense and only the powers, abilities and look differ. The same goes for exotics, which really depend on your class and more importantly, how you use said class.