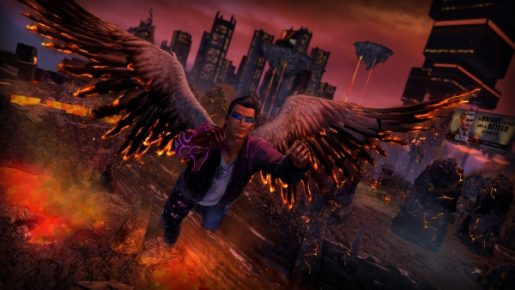 Volition announced this week during its PAX Prime Panel in Seattle that Saints Row 4 will be getting a new expansion and a port on next-gen consoles next year.
Saints Row 4: Re-Elected is the definitive edition of the Xbox 360 and PlayStation 3 versions of the original game. It will be released on PlayStation 4 and Xbox One on January 27th. All of the previously released DLC, including the recently announced Gat Out of Hell will be included.
Saints Row: Gat Out of Hell is a new expansion of Saints Row 4 that will take players to hell. The game is a standalone expansion that will be available for $19.99.
According to Deep Silver, players will play as Johnny Gat. A two-player co-op where the second person plays as Kinzie will be available.
With Gat Out of Hell taking place in Hell, the location is roughly 50 percent the size of Steelport. Players will be able to fly around the city using demonic wings, and the game features weapons themed after Biblical curses and stories – including a gun that fires a plague of locusts, plague of frogs and many more.
Both the Saints Row 4 port and expansion will be released on January 27th.