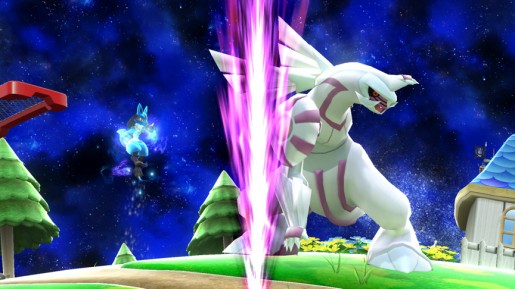 In Super Smash Bros. Brawl, one of the standout new stages was the Pokémon based Spear Pillar that would flip due to multiple Pokémon, including the legendary Palkia and Dialga from the Diamond & Pearl era. Now for the brand new Super Smash Bros. game coming this year, one of the stage hazards from Spear Pillar is getting a chance to shine in its own Poké Ball.
Through one of the latest updates on the official website and Miiverse, Masahiro Sakurai revealed that Palkia is transitioning to the Poké Ball this time around.
Pic of the day. Palkia appeared in the Spear Pillar stage of the previous game…but now it's coming out of a Poké Ball?! Here's Palkia's signature move, Spacial Rend!
Does this mean we may get some of the others from Spear Pillar in their own Poké Balls as well? I guess we'll just have to wait and see.