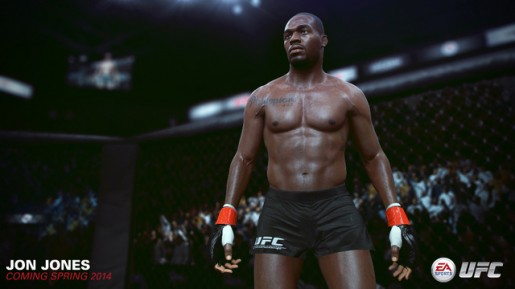 EA Sports UFC will have over 100 fighters in the final game. How does the roster shape up right now?
Looking at the roster that has already been confirmed for EA Sports UFC, it will be a very diverse group of fighters. Not only is there 9 different weight classes, but you can be female fighters for the first time in a UFC video game.
Another cool thing about the roster so far is that it includes both active and retired UFC fighters too. Legends such as Chuck Liddell and Randy Couture have already been confirmed. Even if you are not a fan of the current UFC product, there looks like there will be a bunch of old fighters you can be in the game.
Let's take a look at who has been announced so far:
Heavyweight

-Cain Velasquez
-Junior Dos Santos
-Frank Mir
-Minotauro Nogueira
-Mark Hunt
-Brendan Schaub
-Roy Nelson
-Matt Mitrione

Light Heavyweight

-Jon Jones
-Rashad Evans
-Daniel Cormier
-Forrest Griffin
-Alexander Gustafsson
-Chuck Liddell
-Chael Sonnen
-Randy Couture
-Phil Davis
-Gegard Mousasi

Middleweight

-Chris Weidman
-Michael Bisping
-Cung Le
-Costa Philippou
-Anderson Silva
-Wanderlei Silva
-Lyoto Machida
-Tim Boetsch
-Mark Munoz

Welterweight

-Johny Hendricks
-Rory MacDonald
-Georges St-Pierre
-Demian Maia
-Carlos Condit
-Jake Shields
-Jake Ellenberger
-Mike Pyle

Lightweight

-Anthony Pettis
-Donald Cerrone
-Ben Henderson
-Joe Lauzon
-Gilbert Melendez

Featherweight

-Jose Aldo
-Chan Sung Jung
-Ricardo Lamas
-Cub Swanson
-Conor McGregor
-Clay Guida
-BJ Penn

Bantamweight

-Renan Barao
-Dominick Cruz
-Mike Easton
-Urijah Faber
-Erik Perez

Flyweight

-Demetrious Johnson
-Scott Jorgensen
-Brad Pickett
-John Dodson

Women's Bantamweight

-Ronda Rousey
-Miesha Tate
In terms of other big names that could be included in the game, there are a few that come to mind. Brock Lesnar was UFC's biggest star at one time and was one of the company's biggest draws. Some of the PPV events he was in had UFC's biggest buyrates. Lesnar was featured in both WWE '12 and UFC Undisputed 3 when both companies were published by THQ. The likelihood he will be in EA Sports UFC may be sketchy now that he's with WWE. WWE is now with 2K Games and it's unlikely he'll be able to in the this UFC game.
It's likely heavyweights such as Alistair Overeem and Shane Carwin will eventually be announced. Overeem is still competing so he's probably a lock. Carwin was very popular in the sport before he retired, but he should be put in the game.
Some other past famous UFC fighters like Ken Shamrock, Tito Ortiz and Quinton Jackson could possibly be in EA Sports UFC. Shamrock and Ortiz are in the UFC Hall of Fame so they are popular enough to secure a spot on the roster. Jackson no longer competes for the UFC, so I'm not sure what his status might be. It will be cool if he's in the game, but I'm not 100% sure on that one.
The list above shows 57 fighters announced so far. This means at least 40 fighters or so are left to be revealed. EA Sports UFC isn't out until at least May so there's time for many more announcements.
Looking at the EA Sports UFC roster, who else would you like to see be in the game that hasn't been announced already?