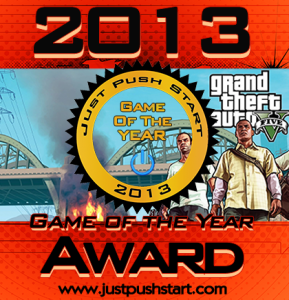 To conclude Just Push Start's Game of the Year awards, we like to congratulate Grand Theft Auto V for winning the biggest award.
Yes, Grand Theft Auto V is undoubtedly the Game of the Year in 2013. The Last of Us may have had the stronger story and characters, but Grand Theft Auto V won mostly because it was all about having fun. Not only is the game highly enjoyable, but it offered hours of gameplay and is a huge improvement over Grand Theft Auto IV.
Whereas most other games make you focus on one task, Grand Theft Auto V allows you to do pretty much anything and everything. I don't think there is any other video game that allows you to play tennis, compete in a triathlon, go parachuting, go street racing, visit a strip club and many more.
It's also amazing how great the graphics are in Grand Theft Auto V. The game still looks great even when compared to PS4 and Xbox One games. Not to mention it features the largest map ever in the GTA series. Quite an achievement considering how jarring the graphics looked in Grand Theft Auto IV in comparison.
It doesn't matter if you're playing by yourself or online, Grand Theft Auto V offered hours of fun gameplay that no other game in 2013 could provide. If you own a PS3 or Xbox 360 and still don't have this game, buy it now as you are missing out!
Grand Theft Auto V is the pinnacle of this console generation and a gold standard which is going to be incredibly difficult to beat. Hopefully GTA Online when it releases in October will live up to the standard of the single player component but even if not, GTA V is the best game I have ever played and very much worth your time and money. Jack Boughton – Reviews Editor