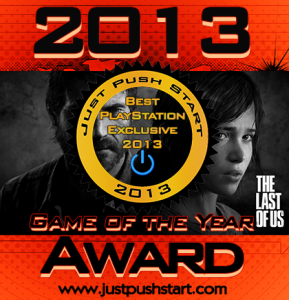 The PlayStation brand released many exclusives across the PS4, PS3 and PS Vita this year. The PS Vita had the likes of Killzone: Mercenary and Tearaway while the PS4 had Killzone: Shadow Fall and Knack. As for the PS3, there were many exclusives including Gran Turismo 6, Beyond Two Souls and God of War: Ascension. There was only one game that can be crowned the "Best PlayStation Exclusive" and that honor goes to The Last of Us.
Naughty Dog has always been the innovators of the video game industry as they push the boundaries of technical limitations, plus add strong narratives to their games. The Uncharted, Jak and Daxter and Crash Bandicoot franchises were all popular and received universal critical and fan acclaim. However, The Last of Us could arguably be the best game they have ever made to date.
There are many great things you can say about The Last of Us as it is just that damn good. The graphics are downright excellent and it's amazing that Naughty Dog were able to produce that much detail to a PS3 game. I would even say the game looks better than some games out right now on the PS4 and Xbox One.
As great as the graphics are, it's the story and gameplay that really shine. The main theme of the game is survival as Joel and Ellie are stuck in a world full of zombies and crazy humans. Sure there are some nice people they meet along the way, but usually they don't survive too long. The game also brings back the "survival horror" genre since the recent Resident Evil games strayed away to become more like a Call of Duty game…
Naughty Dog were best known for Crash Bandicoot and the Uncharted franchise. Now they will also be remembered for creating one of the best survival horror games ever with The Last of Us. The presentation will blow players away and the story is one of the best you'll ever encounter. Everything points towards Naughty Dog spending ridiculous amounts of time to get every single detail correct. It is this level of dedication that makes Naughty Dog one of the best game developers ever. The Last of Us is sure to be on its way to win many "Game of the Year" awards. – Mark Fajardo, Editor-in-Chief