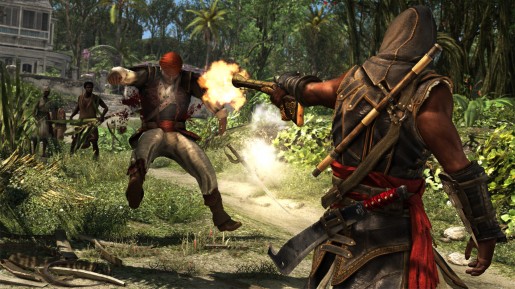 There are a few ways that players can go about freeing slaves and liberation members. The basic way is while inside cities such as Port Au Prince players will come across injustices such as chained slaves, convoy of slaves, runaways, auctions and even some being beaten and tortured. They all basically consist of you ridding the area of enemies which usually consist of red bandana's (what is with Templars and red) and talk to the slaves who usually thank you and run off. Two major ways of freeing slaves and liberation members are plantations, which sort of work like the plantations Edward Kenway came across except your freeing slaves not raiding supplies. After a set amount of time though a new plantation owner might come about and re-open the plantation so in a way, the scenario can be farmed. The real fun one are slave ships which do not require you to damage them in order to board them, in fact if they take too much damage you can harm the inhabitants. Once you clear the area of enemy ships and safely board you have to take out the captain and some enemies then proceed below deck and free the captives.
A rough estimate of the map is about one fifth the size of the main story, but it still offers around ten or so exploration points for chests, plantations and opportunity to free slaves. There is also a deep sea dive opportunity and optional sea hunting chances. Story wise, the campaign lasts anywhere between four to six hours depending on the player and of course if you want to perfect the whole thing you will have to get one hundred percent synchronization as well as freeing over five-hundred slaves and basically build a liberation army. No small feat but very fun to do as the always bad-ass Adawale.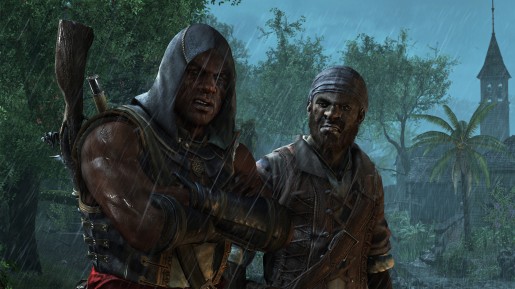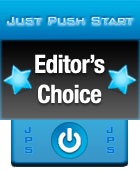 Freedom Cry might be the most robust and content filled offering ever to be a part of any Assassin's Creed DLC. The wide array of content leaves players hours of gameplay, a robust story that continues the backstory from Assassin's Creed IV involving Edward Kenway's faithful second in command, Adawale. Not to mention it is simply great fun to play as Adawale who is a completely different beast compared to Kenway, who comes off as more tame compared to his first-mate. Assassin's Creed IV owners and fans alike deserve to have this DLC in their library no questions asked.
[Editor's Note: Assassin's Creed 4 Freedom Cry was reviewed on the PlayStation 4 platform. The game was provided to us by the publisher for review purposes.]
Assassin's Creed 4: Freedom Cry Review

,