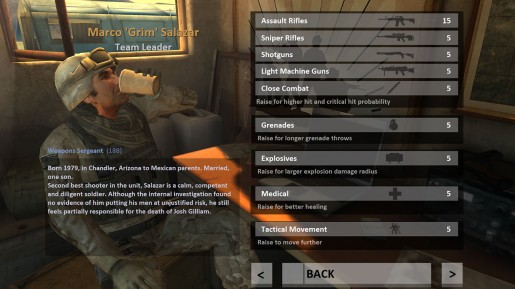 NOTS
Lack of information
One of the major problems I have with the game is the lack of information about the characters. Before a mission begins, players are able to select equipment for the squad before starting. However, unless players remember who has the better sniper skill or medical skill, they won't be able to find out unless they leave the mission and access it through the main menu. Weapons and equipment do not have any indication of how much damage they will do or how effective they are, which can be quite annoying when deciding what to select and buy before a mission. Also, attacking enemies will occasionally get a critical hit but there is no information as to what parameters lead to critical hits; raising the character's skill in the particular weapon will have an impact, but a statistics page that shows information such as critical hit chance, movement distance, visibility etc. would be useful.
Cover system and animation issues
There have been numerous times where characters have had a height advantage and been behind solid cover, but would still be hit by an enemy on a lower floor. This is a small flaw with the game's cover system and the way they have programmed the probability of hitting targets, however it is not completely game breaking and is not always an issue. There are also objects on the map that look like they provide cover, but in essence only block the characters' movement path, which is also more of an annoyance than anything else. At certain times, the animations of characters will look out of place and awkward, for example I had a character shoot at an enemy target sideways. As with the cover flaw, it isn't game breaking just unfortunate that it made it into the full game.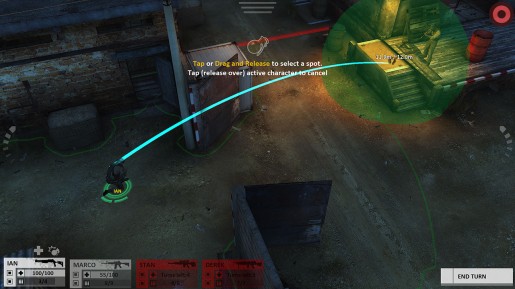 Verdict
ArmA Tactics is an all-round fun and enjoyable game both on the move and not, with challenging missions and badass weapons and equipment to improve your characters. With simplistic gameplay and controls, the campaign will not take too long to complete on normal. However, there are many combinations of missions that players can create using the Create Mission function. The game is visually detailed and engaging with mostly great animations and ambient music. Only a few things bring it down, such as the lack of information in a lot of areas and small minor issues at certain times with the a handful of odd animations and the cover system. For any strategy fan and military simulation lover, this game is definitely worth picking up and is available on PC/Mac/Linux $8.99 €6.99 £5.99 iOS/Android $4.99. As an added bonus, the game supports plenty of languages with the options of English, Czech, French, Italian, Spanish, Russian or German.
[Editor's Note: ArmA Tactics was reviewed on the PC platform. The game was provided to us by the publisher for review purposes.]
ArmA Tactics (PC) Review

,