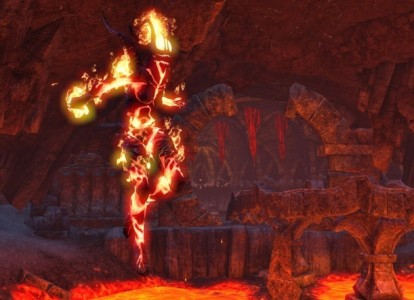 For fans who have been playing The Elder Scrolls game, they might have seen the Flame Atronach, either as an enemy or someone you already summoned in the game to aid you. Well, in the upcoming The Elder Scrolls Online, the Flame Atronach will be making a return and today, Zenimax Online goes into detail about this creature.
On your adventure through Tamriel in The Elder Scrolls Online, you can expect to see a lot of the Flame Atronach and when you see them, you can see the improved effects that the development did for this creature. The flickering fire effects will be noticeable compared to its previous design as seen in Skyrim. According to Zenimax, they're focusing in creating believable effects that fits with the creature.
As for its sound effects, here's an excerpt from the information they revealed recently:
Sound effects are critical for any creature—especially for one with so many kinds of movements and attacks. Most of us are familiar with the kinds of sounds fire can make, but how do we create believable audio for a creature of animate, magical flame? Our Sound Designers get a good look at creatures and their animations before they get to work to get an idea of the kinds of sounds they'll need to create. For the flame atronach, they imagined how its various attacks would sound right away. Utilizing huge sound libraries, they found sounds for swinging torches, campfires, and even an actual geyser.
To learn more about the Flame Atronach, you can check out the official blog post of Zenimax Online. Here's a video that you can check out that summarizes everything: