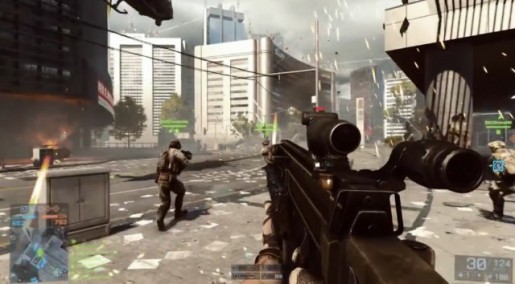 Battlefield 4 was on display at Gamescom and Alex Mendez, Professional eSports Commentator, shared what he experienced during his time with the PlayStation 4 version on Reddit. From the information provided (which uses all PS4 terminology), we now know that spotting is done a little differently this time around. Instead of spamming SELECT, spotting has been switched over to R1.
I had a chance to play the PS4 version at Gamescom and spotting is done with R1 for sure. Oh and it plays wonderfully!
This means that aiming and firing are now on L2 and R2, respectively. Since R2 is being taken up by the "fire" action, the knifing mechanic has been relocated elsewhere on the controller. Mendez couldn't remember exactly which button was responsible for the dog tag-snatching action, but he believes it was either R3 or Circle. Given the almost universal use of R3 for melee attacks, that seems more likely. Also, that would keep Circle free for interacting with objectives and transportation as we've seen in Battlefield 3. Or maybe it will be used for crouching/prone? Only time will tell.
If all of this information on a new controller layout bothers you, there's no need to worry just yet. DICE has revealed that they will be offering an "alternate" control scheme. Little is known about what this controller variation will be or if there will be multiple layouts, but it seems very likely that the least we'll see is a return to L1/R1 for the aiming and shooting portion on PS4. We'll know more as DICE begins to clear up our inquiries as we near the game's October release.