Today is the day everyone has been waiting for as the highly anticipated release of Game Update 2.1 for SWTOR is here. For EA, it's another day where they can expect to make millions of dollars from subscribers. While subscribers and players alike rage about where the game seems to be heading.
With the Game Update 2.1, players will be able to change their character appearance, unlock a new character species, and dye their modules. While this has been the feature everyone has been waiting for since the 'barbershop' of MMO has been missing out in action, why does this addition trouble gamers? It's because EA decided to go with the dark side of the force..
More Ridiculous Cartel Market Scam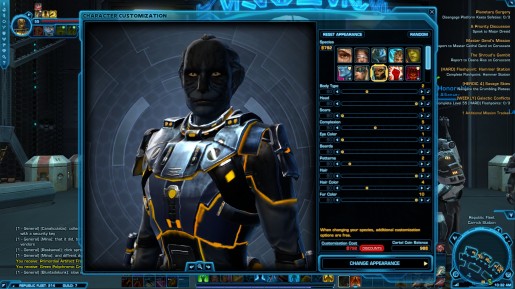 One of the reasons why a lot of subscribers are angry about the update is because every change will cost you actual money, aka Cartel Coins. Assuming a subscriber would like to change their character's appearance (species), they have to pay a hefty amount of 792 Cartel Coins. Along with that amount of coins you have to spend, every change you do (ie: Hair, Eye Color, Body Build, etc) will cost an additional cartel coins that can cost you up $10 worth of CC. Pretty much if you're looking to give your character a complete makeover, you're looking to spend at least 1500 cartel coins, which is equivalent to fifteen (Yes, $15) dollars. Why can't EA just let subscribers use in-game credits for little change to facial features? Paying species change is fine but paying for every little detail? That's an insult to us subscribers.
Previously announced free Cathar, no longer free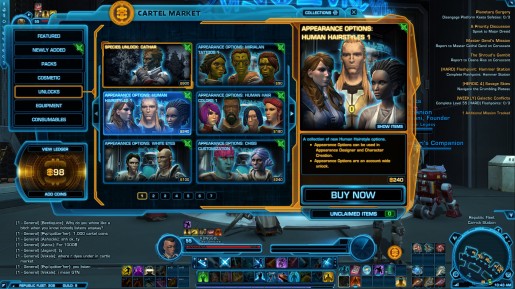 When Game Update 1.3 was announced, it was revealed that SWTOR will be receiving the Cathar species for free along with the game update. Players have been waiting for the species for over a year now, which was finally added with Game Update 2.1, although it will also cost you cartel coins to get it. So this previously 'free' Cathar update will not run you 600 coins, which is quite a 180.
So What Can We Expect from SWTOR Now?
The release of Game Update 2.1 pretty much shows what EA is aiming for; more cartel market strategies to entice players to spend their hard earned money on various things. With the too restrictive free-to-play model they introduced last year, many were turned off and more are becoming turned off with the release of Game Update 2.1
Subscribers were promised before that they will get 100% free access to the game features, but that has now changed with the latest update. As many are becoming weary of these new practices, a lot are rethinking about their subscription, as it's a matter of time before the subscriber bonuses are diminished. Compared to other free-to-play MMOs, SWTOR is the only one strongly pushing microtransactions hard, but then this is EA we're talking about, so I suppose this isn't that shocking either.
The big question is, where does our money going to? If these are the kinds of game updates we get for the $15 we already pay monthly, people would unsubscribe in droves. For over a year, no new flashpoints are introduced, PvP seasons are still the same, and only four operations are there for us to raid to. Also, we see more Cartel Market updates than real content. If Cartel Market gets an update every two weeks, why can't the content be the same?