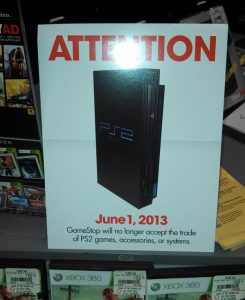 North American games retailer Gamestop has announced it will stop accepting trade-ins for PS2 related items from June.
Gamestop will not accept trade-ins for PS2 consoles, games and accessories from June 1st, 2013. This has been confirmed via Joystiq who contacted various Gamestop retailers across the country.
If you have old old library of PS2 related items that you want to get rid of, now is the best time to trade them in at Gamestop before that will no longer be accepted.
The PS2 had a nice long lifespan. The console sold over 150 million units and lasted for nearly 13 years.