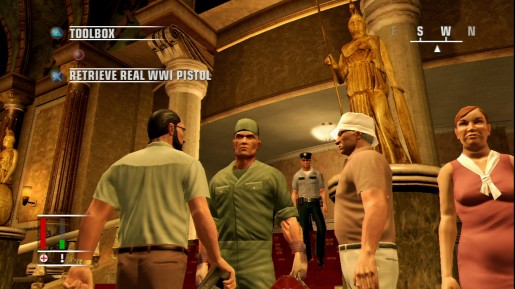 Sniper Challenge Included
Those who missed out on the Sniper Challenge that was offered as a pre-order bonus in Absolution, you will be happy to see that a voucher code will be included inside the package of the game. Along with the forty or so missions that you will get to play in these collection, you will be doing more with the Sniper Challenge.
NOT
Clunky Controls Still Exist
While there are other HD rendition games that improve the controls, Hitman Trilogy HD sadly hasn't improved or changed the controls at all. If you were annoyed on the Silent Assassin controls, you will still be disappointed. The controls in Silent Assassin are annoying and it can get on your nerves at certain points of the game. It would've been better if IO Interactive somewhat changed it, since controls back then don't work quite well in this generation. Don't worry, as soon as you hit Blood Money, you will no longer have to complain about the controls as much.
Games Show Their Age
Fans that are hoping the HD rendition of the Hitman games will be somehow greatly improved, you will be gravely mistaken. Sure, the visuals look cleaner and sharper on HD sets but the fact remains that the stiff animation and textures remain the same. For a game that is over a decade old like in Silent Assassin, you will see how much the game has aged due to the things that anti-aliasing can't improve further upon. The game's overall visuals remains the same, though IO Interactive just did a little bit of polishing to make it look HD.
Original Hitman Not Included
If IO Interactive's intention in releasing Hitman Trilogy HD is to let newer generation of gamers play their past games, it would be wise if they included the first Hitman. Since Silent Assassin is the second game already in the series, those who are looking for the first one will not find it here. Gamers who somehow wan to play the first game in the series should look for another alternative like buying it off from eBay since the Trilogy HD itself will not give it to you at all.
VERDICT
Hitman Trilogy HD is the best way for new generation of gamers to see how the Hitman series started, despite the first game not being included. As with all re-released HD games this generation, nothing has changed much except for the improved visuals, though the clunky controls was left unchanged. Same great content is packaged in one single disc where Hitman fans are looking to play over forty memorable missions that you will not forget. If you are expecting this game to have improved in visuals greatly, don't be as you will be left disappointed since the games will show you how much they have aged over the years.
[Editor's Note: Hitman Trilogy HD was reviewed on the PS3 platform. The game was provided to us by the publisher for review purposes.]
Hitman Trilogy HD Review

,