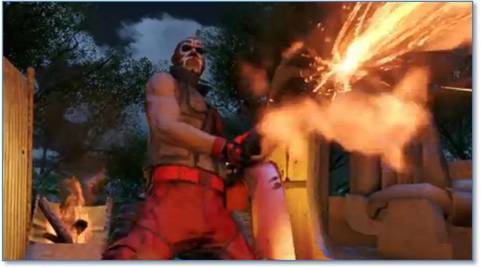 Ubisoft has released a new video for Far Cry 3 profiling two of the most violent and vicious savages you will have go up against.
Deep in the heart of insanity you'll encounter Vaas and Buck, two of the most twisted and ruthless savages in Far Cry 3. Learn the rules of the jungle and see how they unleash hell on the unfortunate souls who cross their paths.
Read the character profiles below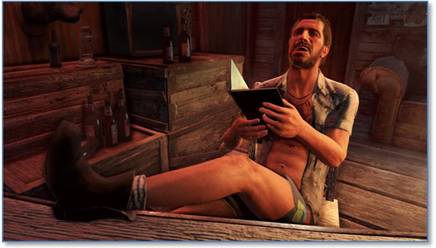 Character Profile – Buck
On an island marked by depravity and violence, Buck may be the most depraved and violent of all. He lives by his own rules – feeding his own insatiable, twisted desires.
His story began in Australia, where he joined the armed forces at an early age. But his commanders quickly discovered his perverse addiction to inflicting pain, and dismissed him. He fell into mercenary work, leading to a contract with Hoyt Volker, the South Pacific's most notorious drug-runner and slave trader. Hoyt realized that Buck's ferocious combat skills and unrelenting brutality could be of use. Since then, Buck has answered to no other. When Hoyt needs a kill, Buck gets the call.
Buck is a man of distinctive tastes. Violent torture is his favorite diversion, and he takes a perverse pride in his stomach-churning assaults. "Around here," he says with a savage leer, "we eat what we kill." His outsize Bowie knife is never far from his grasp – or from a terrified victim's flesh.
Jason Brody first encounters Buck in a desperate search for his kidnapped friend, Keith. Jason learns that Buck has purchased Keith, and bargains for his safe return. Buck makes Jason a deal: if Jason can find and deliver a priceless ancient knife, Buck will let Keith go. Jason agrees, and embarks on a dangerous quest to recover the knife and present it to Buck. But Buck isn't just holding Keith hostage, Keith has become so much more. Buck is only human after all.
Jason and Buck will have to compete for who is the better man, and only one will emerge victorious. And Buck doesn't fight fair, he plays for keeps.
Character Profile – Vaas Montenegro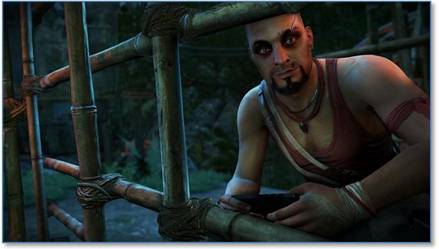 Vaas is an unpredictable, psychotic, violent, merciless, coked-up pirate warlord and slave trader who kills purely for entertainment. No one is safe when Vaas is around. Not his friends, and certainly not his enemies.
This murderer was once destined to inherit the power of his people, the Rakyat. His sister, Citra, rose to lead the entire tribe. Vaas was groomed to become the most powerful warrior on the island. But, instead, he shirked his responsibilities, fleeing the tribe, right into the hands of Hoyt Volker. Hoyt, the principal drug-runner and slave trader operating along the Pacific Rim, had selected Rook Island as his base of operations. He saw murderous potential in Vaas, and promised him wealth and drugs. Now Vaas is Hoyt's most brutal enforcer. His favorite pastime? Kidnapping innocents, accepting ransom money, and selling them as slaves.
To those who serve under him, Vaas is a vicious and unpredictable boss. To those who dare cross him, Vaas is a lethal adversary. He's an expert shot and a ferocious hand-to-hand warrior; his body bears the scars of savage battles deep in the jungle, which he wears with pride. But it is his explosive unpredictability that makes him so dangerous.
Early in the story, Vaas and his pirates capture Jason Brody and his friends. Vaas taunts them, explaining that he's eager to see how much money Jason's parents will pay for his return. But then things go south. Jason escapes. Enraged that a 'pretty boy' would dare challenge him, Vaas screams: "If the jungle doesn't eat you alive, I will." And thus begins a lethal rivalry between the two men. Jason does whatever he can to save his friends and escape, while Vaas develops a psychotic fixation on killing Jason once and for all.
But through all of Vaas's murderous rage, glimpses of his remaining humanity can be seen. Lurking underneath the raucous façade is a disturbed exile, one running from a past that haunts him. He displays a twisted sense of humor that defies categorization. He is real. Unpredictable. Dangerous. Despicable. And entirely unique. He is Vaas.
Check out the trailer below: