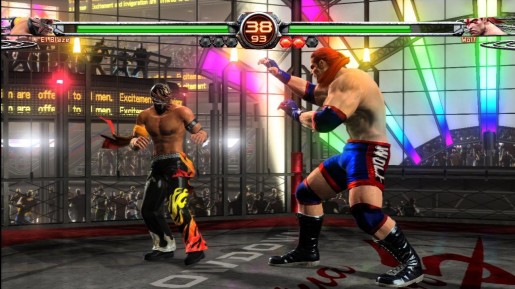 When it comes to fighting games, there is usually a lot of skill involved. This isn't quite the case for Virtua Fighter 5 The Final Showdown, but it is still quite tricky to perform. Due to this we found several easy methods to make these tasks far simpler.
Bronze
You Win
Win a match in Arcade Mode without losing a round (any difficulty level)
Set the rounds to 1 and simply win. Most characters can chain punches, so a simple PPP combo should be more than enough to win on any difficulty.
Ring Out
Win a round by kicking your opponent out of the ring in Arcade Mode (any difficulty level)
This can be very tricky, but is also very easy. First give the CPU 260 health, next select Eileen and wait till you have an open stage. These are mostly fighters like Wolf, Taka-Arashi, Shun Di, Lau Chan, but others work if you want to put in more effort. Once you get one of these fighters, just spam Eileens PPP combo. Don't do anything else and it should cause the AI to go over the edge prior to being knocked out.
Excellent
Win a round without taking any damage in Arcade Mode (any difficultly level)
Getting a perfect is actually amazingly easy. Considering the AI is extremely stupid, you can easily do this with any characters PPP combo. I selected Eileen, but anyone should work and you just need to do this nonstop. Surprisingly this will even work on Very Hard, so there really is nothing to worry about.
Score Attacker
Play Score Attack Mode
Just play Score Attack mode. The trophy will pop prior to starting your first match.
Up and Coming
Play one ranked match
Simply play one ranked match.
Challenger
Play ten ranked matches.
Simply play 10 ranked matches.
Student
Play any training session in tutorial mode.
Open the Dojo and select training. Here you will find various things to do, but I strongly suggest selecting Offensive Mode 1 as I found these quite difficult to perform.